From Ed Hornick
CNN

DENVER, Colorado (CNN) -- Before Sen. Hillary Rodham Clinton's address to the Democratic National Convention on Tuesday, many in the party -- including the delegates she had won -- were looking for her to preach unity.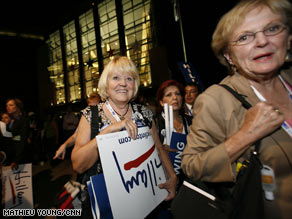 A Clinton supporter exits the arena after hearing the New York senator's speech.
Some who witnessed her speech said she had done the job.
"You would have to be deaf, dumb and blind not to have the feeling of party unity after the speech Hillary Clinton gave," said Ginny Vickie, a Clinton delegate from Kansas.
Clinton made a case to supporters that they should unite behind Sen. Barack Obama, who became the party's presumptive presidential nominee after a long primary battle and is expected to accept the nomination on Thursday.
"Whether you voted for me or voted for Barack, the time is now to unite as a single party with a single purpose," Clinton said Tuesday night.

Watch Clinton's full speech »
Moses Ross, a Clinton delegate from Oregon, was impressed. He said the speech showed class.

Watch Clinton say Obama and Sen. Joe Biden are a great team »
"She understands that the unity of this party is tantamount to our success," Ross said. "As a Hillary Clinton delegate, I will listen to her and I will support Barack Obama."

Watch Clinton call on Democrats to unite »
Don't Miss
Steve Lucas, a 20-year-old delegate from Pennsylvania, said the speech showed Clinton is "devoted to Barack Obama becoming the next president." iReport.com: Are you in Denver?
"I think unity is possible. I came to the convention thinking it might not be," Lucas said. "I was kind of cautious about buying into it ... afraid that a lot of people weren't going to buy into it, that the convention was going to fall apart."
Lucas also said in the first two days of the convention, he saw "a lot of people ... trying to come around."
"Not everyone can get over Hillary, but people are moving on," he said.
The presumptive Republican nominee for president, Sen. John McCain, has made a concerted effort to reach out to Clinton backers, some of whom have said they'd vote for him because Obama defeated Clinton.

Watch the McCain campaign discuss attracting Clinton's supporters »
Claudine Montano, initially a Clinton supporter, said she didn't think too many Clinton backers would back McCain now.
"I think when they heard Hillary tonight, they will go with Obama," said Montano, a New Mexico resident who is not a delegate.
Clinton delegate Emilio Seijo of Puerto Rico said he would take Clinton's advice and back the senator from Illinois.
"She told us we have to stand behind Obama to recover our nation," he said. "Both are committed to the Democratic platform. We are safe with Barack Obama. We are not safe with John McCain."
Not all Clinton supporters at the convention were persuaded to back Obama, however. iReport.com: Share your reaction to DNC speeches
Pledged Clinton delegate Anne Price Mills, with tears in her eyes, said Clinton was "presidential" Tuesday night.

Watch Clinton supporter discuss speech »
Price Mills, of Washington state, said she still would cast her convention vote for Clinton. As for her personal vote in November?
"Obama has two months," she said. "I won't vote for McCain, but [Obama] has to get me here, and I haven't connected with him."
E-mail to a friend

All About Hillary Clinton • Democratic National Committee