By Paul Steinhauser
CNN Deputy Political Director
(CNN) -- The race for the White House is tied, a new opinion poll has suggested, as Democrat delegates gathered in Colorado Monday for the start of the Democratic National Convention.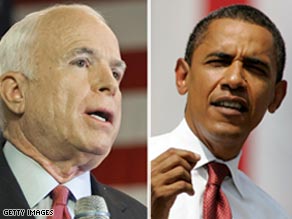 Both John McCain and Barack Obama had the support of 47 percent of people questioned in the CNN poll.
Convention delegates are expected to make history by officially nominating Barack Obama the first African-American presidential nominee of a major U.S. political party.
But a CNN/Opinion Research Corp poll, the first national survey after Obama announced Joe Biden as his running mate, suggests that the battle for the U.S. presidency still has all to play for.

Of those questioned, 47 percent said they were backing Obama and Biden -- the same number who backed Republican rival John McCain, who has yet to announce his running mate.

Watch more on the new VP candidate »
"This looks like a step backward for Obama, who had a 51 to 44 percent advantage last month," commented CNN Polling Director Keating Holland.
One key poll finding was that support for Obama is slipping among supporters of Hillary Clinton, with who Obama fought a close, sometimes bitter, campaign until conceding to her rival in early June.
Clinton enjoyed stronger support with working-class voters during the primary season -- and Obama has pledged that this week's Democrat convention, when his presidential nomination will be ratified, will help give voters a better "sense of who I am"
On Sunday Obama said that he hoped by the end of the week voters would realize that he is "sort of like us. He [Obama] comes from a middle-class background. He went to school on scholarships; he had to pay off student loans. He and his wife had to worry about child care."
Obama is scheduled to give his keynote acceptance speech at Invesco Field, home to the Denver Broncos football team Thursday.

Obama's wife Michelle and veteran Democrat Edward Kennedy, brother of U.S. president John F Kennedy, are both scheduled to speak Monday.
Kennedy, who backed Obama over Clinton, is recovering from treatment for brain cancer: it had been open to question whether his doctors would allow him to make the trip to Denver.
Obama will watch his wife's speech from Kansas City, Missouri before addressing delegates in Denver via satellite.
Former U.S. president Bill Clinton is scheduled to speak Thursday while Hillary Clinton is due to speak Tuesday.
According to the CNN/Opinion Research Corp poll, 66 percent of Clinton supporters -- registered Democrats who want Clinton as the nominee -- are now backing Obama. But the number is down from the 75 percent who in June said they backed Obama.

Watch are Clinton backers on board? »

Furthermore, 27 percent of Clinton supporters now say they'll back Republican McCain -- up from 16 percent in late June.
"The number of Clinton Democrats who say they would vote for McCain has gone up 11 points since June, enough to account for most, although not all, of the support McCain has gained in that time," Holland said.
The majority of all registered voters, 54 percent, describe Obama's choice of Biden as his running mate is "excellent" or a "good decision."
That number jumps to 73 percent when put to all registered Democrats. But only 59 percent of Clinton supporters back the decision.
"It's not that there's anything wrong with the choice of Joe Biden. A majority rate the Biden selection as excellent or pretty good. Voters think he is qualified to be president, and with the exception of Al Gore in 1992, the public ranks Biden as the most qualified running mate in recent times," Holland said.

Watch more on Biden and the road ahead »
"A lot of Americans don't know who he is, but his favorable rating is 13 points higher than his unfavorables. But Biden is not Hillary Clinton, and it's possible that is enough to have moved some of her supporters away from the Democratic ticket, at least temporarily," says Holland.
Among all Democrats, only 38 percent say Obama should have selected Clinton as his running mate.
Still, 74 percent of all voters questioned in the survey said Obama's selection of Biden as a running mate won't have any effect on their vote for president.
• The poll was conducted on Saturday and Sunday, with 1,023 adult Americans questioned by telephone. The survey's sampling error is plus or minus 3.5 percentage points for all voters. For registered Democrats, it is plus or minus 4.5 percentage points, and for Democrats who still support Clinton for the party's nomination, it is plus or minus 7.5 percentage points.
E-mail to a friend

Paul Steinhauser, CNN Deputy Political Director and Alan Silverleib contributed to this report.
All About Barack Obama • Joseph Biden • John McCain • Hillary Clinton • Democratic Party • Republican Party