By Paul Steinhauser
CNN Deputy Political Director
DENVER, Colorado (CNN) -- A new national poll has a mixed message for Democrats as their national convention gets under way Monday in Denver.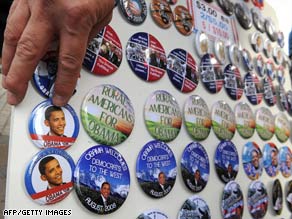 A vendor sells buttons Sunday for the Democratic National Convention in Denver, Colorado.
A CNN/Opinion Research Corp. survey out Monday shows that President Bush's approval rating remains extremely low, at 30 percent, which would appear to benefit the Democrats.
But the poll suggests that the public is not convinced that Sen. John McCain, R-Arizona, would follow Bush's policies if elected. So Bush's unpopularity may not rub off on the presumptive Republican nominee.
"Voters are divided over whether McCain would continue Bush's policies. That's one reason why McCain is competitive. Imagine what this election would look like if George W. Bush were running for re-election or Vice President Dick Cheney were running to succeed him," said Bill Schneider, CNN senior political analyst.
The poll indicates that Democrats are more enthusiastic about voting than Republicans this year. But the Republican Party's favorable rating has risen 10 percentage points since April, while the Democrats' favorable number has dropped, leaving a 4 percentage-point gap in the Democrats favor.

Watch what to expect from the Democratic convention »
"The Republican Party and McCain are being by helped by the recent crisis between the Republic of Georgia and Russia. Anything that heightens concern over national security is likely to be good for McCain," Schneider said.
The poll indicates that only a quarter of the public thinks the economy is in good shape.
But the number who say things are going well in the country has gone up a bit since July, when gas prices started to come down.
The poll also indicates that Obama and McCain are tied with the support of 47 percent of voters each, but a majority of registered voters -- 54 percent to 44 percent -- predict Obama will win in November.
The CNN/Opinion Research survey was conducted Saturday and Sunday, with 1,023 adult Americans questioned by telephone. The poll's sampling error is plus or minus 3.5 percentage points.
E-mail to a friend

All About Barack Obama • John McCain