By Jack Cafferty
CNN
Editor's Note: Jack Cafferty is the author of the best-seller "It's Getting Ugly Out There: The Frauds, Bunglers, Liars, and Losers Who Are Hurting America." He provides commentary on CNN's "The Situation Room" daily from 4 p.m.-7 p.m. You can also visit Jack's Cafferty File blog.
NEW YORK (CNN) -- The Beverly Hillary-billies come to Denver.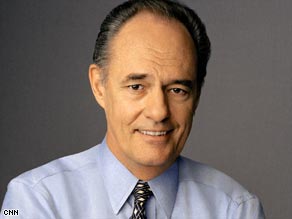 "It's not like [the Clintons] have been bending over backwards to help Obama get elected," says Jack Cafferty.
If you look closely this week, you might catch a glimpse of Barack Obama at the Democratic National Convention in between appearances by the Clintons. Hillary Clinton is doing her dead-level best to take title to Obama's moment in the sun.
She lost. He won. She and her family will be everywhere.
She speaks tonight. Chelsea Clinton will introduce her. She will be preceded by a video produced by her own people, the same ones who produced the "Man from Hope" for Bill Clinton. He will speak tomorrow.
The Clintons will also use the convention to raise money to retire her campaign debts. They even came up with a cute little contest. Hillary Clinton awarded one lucky donor a trip to the convention with her.
And as an enticement to cough up some bucks, Bill Clinton sent an e-mail to potential contributors promising a memorable week with his wife. (Insert your own joke here)
He said, "You'll get to see Hillary speak on Tuesday and Barack Obama -- the next president of the United States -- on Thursday. And I hear Hillary and you will have a chat -- I'll make sure I stop by."
Makes you want to borrow money against your house, doesn't it? How gross.
Don't Miss
It's not like they have been bending over backwards to help Obama get elected. Bill Clinton has barely been polite. He couldn't even bring himself to say he thought Obama is qualified to be president. Now, Bill Clinton is reportedly not happy about the topic of his speech Wednesday night.
Politico.com reports the former president wanted to talk about the economy under President Bush compared to his accomplishments during his term in office. The theme for Wednesday night is "Securing America for the 21st Century." It seems Bill Clinton is forever more interested in reminding us of what a charming guy he was while in office than in acting like one of the leaders of his party and trying to get his party into the White House.
Kind of sad, really.
Yet, Obama's people have gone out of their way to accommodate the Clintons this week in the hopes of achieving party unity. Obama told reporters on Monday that former President Clinton could speak about anything he likes.
Some of Hillary Clinton's supporters had threatened to disrupt the proceedings if their candidate wasn't shown the proper amount of respect. They're called PUMAs, an acronym for "Party Unity My Ass." They appear to be a humorless lot who cannot come to terms with the fact that the country didn't want Hillary Clinton to be president. So they have been throwing a hissy fit ever since the primaries ended. iReport.com: Clinton delegate, supporter clash
For these people there will never be unity unless Hillary Clinton is president. For the rest of the Democratic Party, logic suggests that when it comes to a decision between Barack Obama and John McCain, they would be more inclined to stick needles in their eyes than vote to perpetuate the abysmal situation we find ourselves in courtesy of George W. Bush and his merry band of country-wreckers.
Meanwhile, Hillary Clinton owes some big bucks, as in tens of millions of dollars. So if you're at the convention this week and you see her out in front of the hall selling pencils, buy one. She needs the money.
The opinions expressed in this commentary are solely those of the writer.
E-mail to a friend

All About George W. Bush • Hillary Clinton • Barack Obama • Bill Clinton • John McCain