(CNN) -- Conservatives and Democrats rarely agree, but the decision to have Sen. Joe Lieberman speak at the Republican National Convention has put both groups on edge.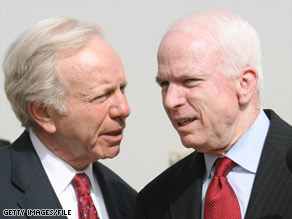 Sens. John McCain, right, and Joseph Liebeman traveled to Iraq and the Middle East together this spring.
Democrats are furious that Lieberman, an independent senator from Connecticut who was the Democratic vice presidential nominee in 2000, is helping Sen. John McCain attract independent voters. Lieberman has been an almost constant companion as McCain has campaigned across the country.
Many Democrats were already angry with Lieberman for his strong and vocal support for the continued deployment of U.S. troops in Iraq.
But the decision to put the former Democrat front-and-center on the first night of the Republican National Convention has also raised anxiety among conservatives who are worried that McCain, the presumed Republican presidential nominee, will name Lieberman as his running mate.

Watch how McCain worries conservatives »
If Lieberman were on the GOP ticket, conservatives argue, it would hurt McCain's standing with conservatives because Lieberman supports abortion rights.
Don't Miss
Conservatives are also worried that Tom Ridge, a former Pennsylvania governor and Homeland Security secretary, is also being considered for the GOP's No. 2 spot. Ridge also supports abortion rights.

Watch CNN's Wolf Blitzer interview Ridge »
One Republican insider said McCain campaign manager Rick Davis has called several state party chairmen and indicated that Ridge will be the Republican vice presidential pick this cycle.
But sources within the McCain camp say the talk about Ridge being added to the ticket may be a smoke screen so Mitt Romney, a former Massachusetts governor and presidential candidate, would be more acceptable to conservatives once he is picked.
Conservatives have been vocal in their opposition to Lieberman and Ridge. In an open letter to McCain, conservative activist Richard A. Viguerie wrote, "your indication that you're willing to put a person who has a clear, unequivocal pro-abortion record within a heartbeat of the presidency is alarming."

Watch analysts debate a McCain-Lieberman ticket »
"Senator McCain, you are exceedingly proud of being a political maverick -- you wear it as a badge of honor. Well, poke the base of the Republican Party -- the conservatives -- in the eye one more time by choosing a pro-abortion vice presidential candidate, and conservatives will show you that two can play the maverick game," Viguerie warned.
When a voter in Las Cruces, New Mexico, asked McCain on Wednesday whether he would pick a running mate who "conservatives can actually rally around," McCain said, "I will nominate a person to be vice president, my running mate, who shares my principles, my values and my priorities, and that's the best that I can tell you."
Ken Duberstein, a former White House chief of staff for President Reagan, said McCain "can nominate or try and nominate anyone he wants. He is, in fact, the leader of the party now going forward. But it would be a very bumpy road" if McCain decided to pick a running mate who supports abortion rights.
Despite reservations from conservatives, Rudy Giuliani, a former Republican presidential candidate and former mayor of New York, said Wednesday that the party would accept McCain's choice for vice president.
Giuliani said McCain's "main criteria would be a person that would allow us to sleep at night knowing that we had selected someone that could immediately be president of the United States."
"He will select the person that is best, and if that person happens to be among other things pro-choice, the party will support that," Giuliani.
E-mail to a friend

CNN's Ed Henry and Anastasia Diakides contributed to this report.
All About John McCain • Tom Ridge • Joseph Lieberman