(CNN) -- Sen. John McCain has chipped away at Sen. Barack Obama's lead, with a national survey of polls showing the Democratic presumptive nominee up by just 1 percentage point in the presidential race.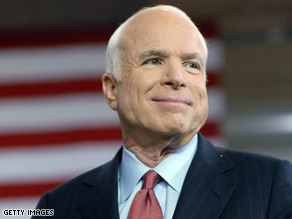 Sen. John McCain has used some of Sen. Hillary Clinton's tactics in questioning Sen. Barack Obama's experience.
According to CNN's average of recent national surveys, Obama is ahead of McCain 45 percent to 44 percent.
Obama's lead in the "poll of polls," which consists of seven surveys, is down from 3 percentage points on Wednesday and down from 8 percentage points in mid-July.
"From my perspective, Obama needs to introduce a game changer -- and fast -- before public opinion starts to gel around the notion that he is a phenom who deserves great respect but is not seasoned enough and would be too much of a risk in the Oval Office," said CNN contributor David Gergen, a former counselor to three presidents. Read what Gergen thinks at the "Anderson Cooper 360°" blog
The poll of polls includes NBC/The Wall Street Journal (August 15-18), CBS/The New York Times (August 15-19), Zogby (August 14-16), Battleground (August 10-14), Gallup tracking (August 17-19), Los Angeles Times/Bloomberg (August 15-18) and Quinnipiac (August 12-17). The poll of polls does not have a sampling error.
In recent weeks, McCain has stepped up his attacks on Obama on national security issues.
Russia's invasion of Georgia gave McCain an anvil to hammer away at Obama's inexperience, CNN senior political analyst Bill Schneider said.
Don't Miss
"The McCain campaign believes that some of Hillary Clinton's tactics, especially questioning whether Obama is ready to lead, can be a real winner," Schneider said.
Clinton nearly overtook Obama during the primary campaign after she started airing ads asking whom voters would rather have answering a 3 a.m. call to the White House.
"The McCain team has been very open that they went to school on the Hillary Clinton campaign, that they learned from that," Gergen said.

Watch how McCain is borrowing moves from Clinton »
"And, on this 3 a.m. ad, what's very striking, as some have pointed out over the last few days, is that Barack Obama was winning a steady streak of victories against Hillary Clinton," Gergen said.
"And then she ran that ad, and she really went on the attack on the experience question. And she won the bulk of the primaries thereafter in the closing months of the Democratic primaries and won 500,000 more votes than he did and almost took it away from him."
When Russian troops invaded Georgia two weeks ago, McCain vigorously denounced the action and warned of consequences. Obama's reaction was more measured, and potential voters noticed, Schneider said.
"Which candidate do voters believe is better qualified to deal with Russia? McCain by better than 2 to 1," Schneider said. "More experience in military matters and foreign affairs."
That argument may be even more effective for McCain than it was for Clinton, said political analyst Marc Halperin, a former Democratic strategist.
McCain is "going after more centrist voters, more swing voters, more conservative voters who will be a much bigger deal in the general election than they were in those primaries and caucuses," Halperin said.

Watch analysts break down the race »
Clinton ultimately lost to Obama, but she showed how to hurt him.
"What the Clinton campaign demonstrated is, when you bring [Obama] back down to earth, it's a better battle," said Dan Schnur, McCain's communications director in the 2000 campaign.
McCain also may have gotten a boost from his performance at last weekend's faith forum, hosted by the Rev. Rick Warren.
Gergen said he thought both candidates handled themselves well but said he was particularly impressed with McCain's performance.
"Along comes McCain, who not only has -- he doesn't like to talk about his religion very much. And then he talks about it openly. But he has a very powerful story that's emotionally connected to the audience," he said. "It's the candidate who can connect emotionally to Middle America who will have the big advantage going down the stretch."
But the recent downturn in the polls for Obama may not last. The Democratic White House hopeful is headed for a week of what is likely to be overwhelmingly positive coverage as he names his running mate and officially accepts his party's presidential nomination.
"The big question now is whether Obama can successfully regain control of the campaign agenda as we head into the Democratic convention," said Alan Silverleib, CNN senior political researcher.
E-mail to a friend

CNN's Alexander Mooney, Joe Johns and Alan Silverleib contributed to this report
All About John McCain • Barack Obama • Hillary Clinton