(CNN) -- Several GOP sources said they are planning events with the assumption that Sen. John McCain will name his running mate August 29, the day after the Democratic National Convention ends.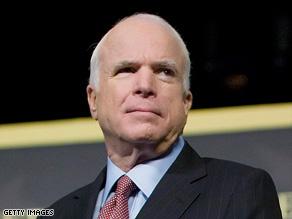 Sen. John McCain's campaign is planning several rallies the day after the Democratic convention ends.
Republicans inside and outside the McCain camp said the senator from Arizona, who is planning large rallies in several battleground states that day, may name the person with whom he'll share the Republican presidential ticket.
However, the sources who said they are making plans for August 29 also caution that the decision is McCain's alone and that he could announce his choice at another time.
They want rallies regardless to show support for McCain as Sen. Barack Obama leaves the Democratic convention in Denver, Colorado, and as the presumptive Republican nominee gears up for the his convention, which begins September 1 in Minneapolis-St. Paul, Minnesota.

Watch how the deciding moment draws near »
Three August 29 rallies are in the works for McCain, one of which will be in Ohio. Other rallies likely will be held in Michigan and Pennsylvania.
The campaign hopes the Ohio rally will draw 15,000 people, about five times the size of McCain's largest crowd to date.
The events are not necessarily designed to name a vice presidential candidate, campaign sources said, but McCain's vice presidential shortlist is thought to include politicians from those states: former U.S. Rep. Rob Portman of Ohio, Michigan native and former Massachusetts Gov. Mitt Romney and former Pennsylvania Gov. Tom Ridge.
E-mail to a friend

All About John McCain • Republican Party