LAKE FOREST, California (CNN) -- From their views on abortion to their greatest moral failings, Sens. Barack Obama and John McCain used much different styles to tackle the same tough questions at Saturday night's forum on faith.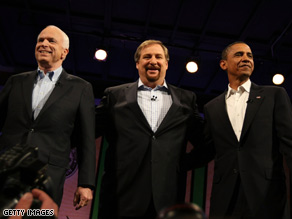 John McCain, Rick Warren and Barack Obama take the stage together at the forum on faith.
Obama struck a conversational tone and directed his answers toward moderator Rick Warren.
McCain gave straightforward responses, taking a more personal approach as he directed his answers toward the audience and viewers at home.
David Gergen, a senior political analyst for CNN, said he thought both candidates handled themselves well, but he was particularly impressed with McCain's performance.
"Along comes McCain, who not only has -- he doesn't like to talk about his religion very much. And then he talks about it openly. But he has a very powerful story that's emotionally connected to the audience," he said.
"It's the candidate who can connect emotionally to Middle America who will have the big advantage going down the stretch."
The event was held at Saddleback Church, a mega-church in southern California. Warren, pastor at the church and author of the best-selling book "The Purpose-Driven Life," interviewed both candidates.
McCain and Obama appeared briefly onstage together, shaking hands and posing with Warren between their one-hour interviews.
Warren said Sunday he thought the forum showed "two personalities exactly playing according to form."
"I see Barack Obama as kind of the thoughtful consensus builder. I see John McCain as the happy, straightforward warrior, and they both answered exactly according to casting," Warren said.
"It was a good balance to show the difference," he said.
Miss it the first time?
John McCain and Barack Obama in a forum hosted by Rick Warren. Catch the replay on CNN.
Sunday, 8 p.m. ET
While many of the questions focused on faith and issues that are important to the evangelical voting bloc, Warren also asked political questions about topics such as leadership, taxes and foreign policy.
"It was far less about religion and a lot more about values," said Candy Crowley, CNN's senior political correspondent.

Watch analysts break down the event »
Warren pressed Obama on two hot-button issues among social conservatives: abortion and same-sex marriage.
The presumptive Democratic nominee tried to convince religious voters that he's not a threat -- even when they disagree, said Bill Schneider, CNN's senior political analyst.

Watch Schneider's analysis of the forum »
Obama said although he's pro-choice and supports Roe v. Wade, his goal is to reduce the number of abortions in America.
"On this particular issue, if you believe that life begins at conception ... and you are consistent, then I can't argue with you on that," he said. "What I can do is say, 'Are there ways we can work together to reduce the number of unwanted pregnancies?' "
Obama also touched on same-sex marriage. When asked to define marriage, the Illinois senator told Warren, "It's a union between a man and a woman."
"For me as a Christian, it is a sacred union. God's in the mix," he said.
Obama added that he does support same-sex civil unions, saying, "I can afford those civil rights to others even if I don't have ... that view."
McCain was also asked about his views on those issues.

Watch McCain discuss abortion »
Asked when life begins, McCain was quick to say "at the moment of conception." McCain's response to a question Obama dodged was met with huge applause from the audience.
"I have a 25-year pro-life record in the Congress, in the Senate; and as president of the United States, I will be a pro-life president, and this presidency will have pro-life policies," he said.

Watch more of McCain's interview »
When Obama was asked about when life begins, the pro-choice candidate said that decision is "above my pay grade."

Watch more of Obama's comments »
In terms of same-sex marriage, McCain said he supports traditional marriage defined as a union between a man and a woman but would let states decide rather than have a federal mandate.
Asked what he learned after watching both candidates, Gergen said he realized "John McCain's going to be a much tougher opponent for Barack Obama in the debates than anybody ever might have imagined just a few weeks ago."
Gergen said McCain's personal stories helped him connect with the audience.
The presumptive Republican nominee got teary-eyed while discussing an experience with a guard when he was a prisoner of war in Vietnam. The guard, McCain said, drew a cross in the sand while he was praying on Christmas Day. "For a minute there, we were just two Christians worshipping together."
Tony Perkins, president of the Family Research Council, said McCain "did what he needed to do" when it comes to discussing his faith.
"I think, overall, John McCain did extremely well," he said. "He's a man of few words. But ... when he tells stories, he connects."
Obama, on the other hand, also gained ground with skeptical Christians, Gergen said.
"I thought Barack Obama's answer tonight was helpful to him and addressed a couple of things, because there's been a lot of doubt about his Christian faith," he said. "I think he also helped to dispel the myth that he's such an elitist and he's arrogant. He was quite humble in that answer and many others."
Throughout the campaign, Obama has sought to dispel false rumors about his faith -- such as claims he is Muslim and was sworn in using the Quran.
Neither candidate shied away from a question about which current Supreme Court justice they would not have nominated.
Obama's reply: Clarence Thomas.
"I don't think he was a strong enough jurist or a legal thinker at the time for that. I profoundly disagree with his interpretation" of the Constitution, he said.
McCain said he would have never nominated Justices Ruth Bader Ginsburg, Stephen Breyer, David Souter or John Paul Stevens.
Those are the judges that social conservative voters want to hear "from John McCain's own lips that he opposes," said Dana Bash, a CNN correspondent. The issue of judges is "one of the most, if not the most, important issue for many social conservatives."
The Arizona senator also said he was "proud" of President Bush for nominating conservative Justices Samuel Alito and John Roberts to the court.
Warren has said he won't endorse either candidate, preferring that his followers make up their own minds.
A CNN/Opinion Research Corp. poll taken July 27-29 showed that among white, born-again or evangelical voters, 67 percent are for McCain, with 24 percent for Obama.
Although it's a strong showing for McCain, he's lagging 11 percentage points behind President Bush in the 2004 election. Exit polls show that Bush beat Sen. John Kerry 78 percent to 21 percent among these voters.
E-mail to a friend

All About Religion • Rick Warren • Barack Obama • John McCain