By Alan Silverleib
CNN

WASHINGTON (CNN) -- Exactly how much of a role will faith and values play in determining the next occupant of 1600 Pennsylvania Avenue?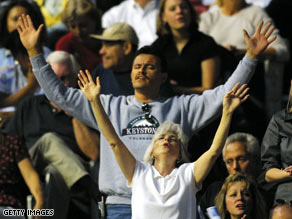 Will the mobilization of values voters trump foreign policy worries on Election Day?
That crucial question takes center stage once again this weekend, as Sens. John McCain and Barack Obama appear together Saturday with the Rev. Rick Warren, author of the best-selling book "The Purpose-Driven Life," at his 22,000-member Saddleback mega-church in Orange County, California.
While the two presumptive nominees are meeting with Warren, members of TheCall, an organization of "values voters," will rally on the National Mall in Washington to emphasize their belief that America is in need of "the mercy of God and a great spiritual awakening."
All of which begs the question: Is the faltering economy really issue No. 1 in 2008? Or will the mobilization of values voters, particularly social conservatives, trump pocketbook issues and foreign policy worries on Election Day?
This much is clear: Presidential candidates ignore the importance of the values-based vote at their peril.
Eight years ago, then-Texas Gov. George W. Bush made support among born-again and evangelical voters the cornerstone of his drive for the White House. When asked in a Republican primary debate to name the political philosopher or thinker he identified with most, Bush famously replied, "Christ, because he changed my heart."
Buoyed by an outpouring of support among evangelicals in that cycle's Republican primaries, Bush's campaign went on to engineer one of the most intensive evangelical targeting and get-out-the-vote drives in general election history.
The result? White voters identifying with the "religious right" grew from 14 to 17 percent of the total electorate. At the same time, the GOP's share of the white religious right vote jumped 15 percent: from 65 percent in 1996 to 80 percent.
Fast-forward to 2004. White evangelical or born-again voters comprised 23 percent of the overall electorate. Bush captured 78 percent of their vote. And although the war in Iraq dominated the headlines, it didn't dominate at the polls. A small plurality of voters cited "moral values" as the most important issue in the campaign; Bush crushed Sen. John Kerry among these voters by a whopping 62-percent margin, 80 percent to 18 percent.
"If white evangelicals had not voted in 2004, Kerry would have beaten Bush by a 53 to 45 percent margin nationwide," CNN Polling Director Keating Holland noted.
A quick glance at the state exit polls shows just how crucial the evangelical vote was to Bush's electoral victory.
In the pivotal state of Ohio -- no Republican has ever won the White House without the Buckeye State -- white evangelical and born-again voters comprised 25 percent of the total vote. Though Bush carried the state by a mere 2 points (51 to 49 percent), he carried white evangelical/born again voters by 52 points (76 to 24 percent).
A similar story could be told in the battleground state of Iowa, where Bush won by less than 1 percentage point, thanks in large part to his defeat of Kerry among the same group of voters by a 2-to-1 ratio.
Can McCain count on similar results from conservative values voters this time around?
At this stage of the campaign, the answer appears to be no.
There are four reasons why.
First, McCain lacks Bush's credibility and reservoir of goodwill among social conservatives.
Back in 2000, when Bush was currying favor with values voters, McCain all but declared war on the Christian conservative leadership.
During that year's South Carolina primary, McCain derided Bush as a "Pat Robertson" Republican. He went on to proclaim, "Neither party should be defined by pandering to the outer reaches of American politics and the agents of intolerance, whether they be Louis Farrakhan or Al Sharpton on the left, or Pat Robertson or Jerry Falwell on the right."
Eight years later, McCain's remarks have not been forgotten by social conservative activists. The Arizona senator, however strong and persistent his outreach efforts may be today, cannot count on an enthusiastic, fully mobilized evangelical or born-again community.
Second, by most accounts, McCain still lacks Bush's impressive ground game.
"When it comes to get-out-the-vote efforts, the McCain campaign appears to trail the Obama campaign in both manpower and spending," CNN Deputy Political Director Paul Steinhauser said. "And it seems that their field operation is not as built up as the Bush-Cheney machine was at this point four years ago."
In a year where the Republican brand is badly damaged, McCain will pay a steep price on Election Day if he fails to deploy a field operation capable of targeting values voters as effectively as the Bush team did in 2004.
Third, an increasing number of social conservatives, particularly younger social conservatives, are starting to pay more attention to traditional Democratic issues such as poverty, health care and the environment. This trend may be most clearly exemplified by Warren himself, who came under fire in 2006 and last year for inviting Obama and Sen. Hillary Clinton to church summits discussing HIV/AIDS.
"In 2008, many conservative religious voters appear to have a broader issue agenda, including climate change, AIDS in Africa and poverty," noted John Green, a senior fellow at the Pew Forum on Religion and Public Life. "This broader agenda gives Sen. Obama an opportunity to improve the Democratic Party's performance among these voters."
Supporters of the Obama campaign are trying to advantage of this new agenda. Among other things, they recently established Matthew 25, a pro-Obama political action committee comprised of a "community of Christians ... inspired by the Gospel mandate to put our faith into action to care for our neighbor, especially the most vulnerable."
Fourth, the unusually sour mood of the country as a whole threatens to cut into the GOP's share of the vote across the board, among all segments of the electorate. The natural desire for change after a party has held the White House for two terms has been amplified by growing economic anxiety and exhaustion with the war in Iraq. Roughly four in five voters now believe that the country is on the wrong track.
There is no indication that values voters are immune from this widespread pessimism and anxiety. iReport.com: Share your thoughts on the election
If there is a silver lining for McCain, it can be found in the fact that Obama's efforts to woo white born-again and evangelical voters have not translated into a boost in the polls. Since January, Obama has actually dropped from 29 percent to 22 percent of the vote with this segment of the electorate. For all of his campaign's outreach efforts, he is faring little better than Kerry, who received 21 percent of the vote among this same group of voters in 2004.
The problem for McCain is that he is only receiving 67 percent of the white born-again/evangelical vote, 11 points off the mark set by Bush four years ago. More conservative religious voters seem to be undecided this time around. McCain not only needs to win all of these voters back; he needs to ensure that they're enthusiastic enough to go to the polls in November.
The slightest drop in the faith-based vote could very well spell the difference between victory and defeat in several key battleground states on Election Day.
So will faith and values play a key role in determining the next occupant of 1600 Pennsylvania Ave.? Absolutely.
Which candidate will benefit from that role? The jury's still out.
E-mail to a friend

All About John McCain • Barack Obama • Religion