By Ed Rollins
CNN Contributor
Editor's note: Ed Rollins, who served as political director for President Reagan, is a Republican strategist who was national chairman of Mike Huckabee's campaign.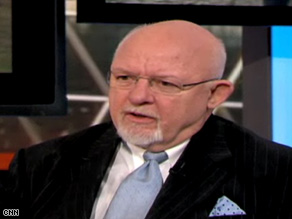 Ed Rollins says the key question in Denver is: Will Hillary Clinton's supporters fall in line behind Barack Obama?
NEW YORK (CNN) -- On August 25, the Democrats meet in Denver, Colorado, and a week later, the Republicans gather in Minneapolis-St. Paul, Minnesota.
It is the second time the cities have been host to conventions. The Republicans met in Minneapolis-St. Paul in 1892 to renominate President Benjamin Harrison, who was defeated in the fall by Grover Cleveland.
Denver was host to the Democrats in 1908, when they nominated William Jennings Bryan, who was defeated by William Howard Taft in an Electoral College landslide.
At least one of these cities' luck will change.
But that's not all that will be different. In the hundred years since, everything about conventions has changed. Oh, sure, they still nominate presidential and vice presidential candidates and draft a party platform as they did at the turn of the century.
But today the conventions are television shows that fewer and fewer viewers want to watch and that the networks really don't want to carry. So in a way it's all a game. "How do I make the networks carry my program?" is the mantra of the campaign and convention strategists. "How little of their canned, boring, propaganda can I get away with carrying live?" is the counter-thought process of some television executives.
As a former campaign manager for a presidential campaign (Reagan 1984), I can tell you the one element of the campaign that most professionals dread is the convention. It takes an enormous amount of energy, money and resources to put one of these things on. And so much can go wrong!
Many people, including me, think conventions have outlived their usefulness. But even we cynics know this year's shows will matter and have a big impact on the election. And with a campaign dead even in the polls, the risks to the candidates this year are enormous.
Don't Miss
The convention is high-risk even with the best planners and thinkers of each party producing it. In Denver, 50,000 folks will come into the city looking for excitement. That includes 15,000 members of the media looking for news stories that might not be there. And they have to file stories whether it's boring or exciting.
There will be 6,000-plus delegates and alternates who want to be a part of history, and another 14,000 party officials and hangers on who think they know everything about politics and don't want to be surprised at what happens. Then you throw in a bunch of volunteers and locals and you've got a full house brimming with excitement.
The Republican convention has similar numbers, except for a smaller number of delegates and alternates. Surprises can happen.
Barack Obama is the perfect example of this. I believe this is only the second convention he has attended. As a state senator and unexpected nominee for the Senate seat he now holds, he was chosen to give the keynote address four years ago in Boston, Massachusetts.
Unknown to the country and most in his party, Obama lit up a dull convention and came out a star. Now he comes to his second convention as his party's nominee, having beaten back the Democrat's establishment choice. Not a bad step-up by any measure, but he may not be the biggest story of this convention.
What do Hillary Clinton and her supporters do? The real pre-convention question is: Will they fall in line and march out of the convention united to defeat John McCain in the fall? Does Obama put her on the ticket? If not, who will get the vice presidential nomination? It will take a lot to make this a happy party.
Right now, Obama is getting only 72 percent of Clinton's supporters while McCain is getting 88 percent of his former opponents' voters. That is what has made this an even race.
The Republicans, on the other hand, also are a party not yet energized around its nominee. They support him, but only 17 percent support him strongly, according to the latest Pew poll.
Many are not looking forward to a convention program with the prime slots given to non-conservatives and pro-choice politicians like California Gov. Arnold Schwarzenegger, unpopular among his home state Republicans, and former New York Mayor Rudy Giuliani, who spent more than $60 million in his presidential bid and received less than 3 percent of the vote and no delegates.
That, plus a spotlight on Sen. Joe Lieberman, an independent and former liberal Democrat, is not going to excite the base. If McCain nominates a pro-choice or other unacceptable running mate, the unhappiness level in the hockey arena where they are holding the convention will exceed the cheers greeting Obama in Denver's football stadium.
With a dead-even race and just a few full weeks left to campaign in the fall, there is little chance to undo any damage that might be done. My unsought counsel to both campaigns is to get your big issue, picking the vice presidential candidate, out of the way this week, and then energize that base.
As a longtime strategist, I always want to build my campaign around descriptive words and drive those words in the minds of voters. The conventions need to be a big part of that. With Reagan in 1984, it was: "A leader you could trust!"
With Obama, the easiest words to drive are: "A charismatic leader and agent of change."
With McCain: "A man of courage willing to compromise."
Whatever happens, you don't want those phrases to become:
Obama: "A charismatic speaker who is chancy."
Or, for McCain: "A courageous man who was compromised."
Remember, no surprises. Those smart politicians and the media don't like surprises. Just ask Dan Quayle.
The opinions expressed in this commentary are solely those of the writer.
E-mail to a friend

All About Election Campaigns • Barack Obama • John McCain