By CNN senior political analyst Bill Schneider
Economists have devised elaborate forecasting models to predict this year's election. What goes into the models?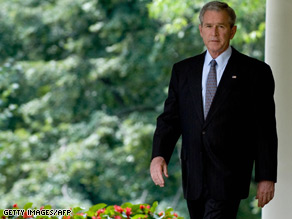 President Bush's popularity is low but the race to replace him is staying close.
The economy (bad). The president's popularity (low). Attitude toward the war in Iraq (weary). Desire for change (high). Put 'em all together, stir briskly and what forecast comes out? A huge Democratic landslide.
Strange, then, that the polls are showing a close race. Why? Two reasons -- John McCain and Barack Obama.
Imagine what this campaign would look like if President Bush were running for re-election, or if Vice President Dick Cheney were running to succeed him.
Landslide would be an understatement. But McCain is not part of the Bush Administration. He takes pains to make that clear. "We've disagreed over the conduct of the war and the treatment of detainees, over out-of-control government spending and budget gimmicks, over energy policy and climate change," McCain said in June.
A whopping three quarters of Americans believe things are going badly in the country, according to the latest CNN poll conducted by the Opinion Research Corporation.
Voters who feel that way have a very low opinion of President Bush (21 percent approval). But their displeasure does not seem to extend to McCain. Fifty-six percent say they like McCain.
Obama has a problem, too. He's new, he's young, he's relatively inexperienced and he doesn't have strong national security credentials. His race? That doesn't seem to be nearly as big a problem. At least as many whites seem to be voting FOR Obama because he's black -- and therefore a political outsider -- as are voting against him because he's black.
Still, a lot of voters see Obama as risky business. Democratic Obama blames the problem on Republicans. "What they're going to try to argue is that somehow, I'm too risky," Obama said last month. "We know we didn't do a good job, but he's too risky."
McCain's negative ads are keeping the focus on Obama. Obama dominates the Republicans Party's web site. By nearly two to one, voters say they are paying more attention to what kind of President Obama would be than what kind of President McCain would be. The election is turning into a referendum on Obama.
It's supposed to be a referendum on President Bush and the status quo. The country's mood is as bad now as it was in 1980, when Jimmy Carter was running for re-election and Ronald Reagan promised change.
People saw Reagan as risky, too. The 1980 election was close until the last week of the campaign, when Reagan asked voters, "Are you better off than you were four years ago?" Here's Obama, addressing voters in Florida last week: "I want to ask you a simple question, maybe a familiar one. Are you better off now than you were four years ago, or eight years ago?"
Obama is promising change. The downside of change is risk. If you want change, you have to take risks. The two go together.
E-mail to a friend

All About Democratic Party • Barack Obama • John McCain • Republican Party