By Leslie Sanchez
CNN Contributor
Editor's note: Republican Leslie Sanchez was director of the Bush White House Initiative on Hispanic Education from 2001 to 2003 and is the author of "Los Republicanos: Why Hispanics and Republicans Need Each Other." She is not a paid consultant to any current candidate. Sanchez is CEO of the Impacto Group, which specializes in market research about women and Hispanics for its corporate and nonprofit clients.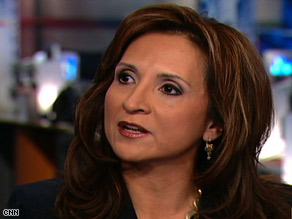 Leslie Sanchez says Sen. John McCain conveyed strength and determination on the Russian-Georgian conflict.
(CNN) -- Despite the best work of political handlers and advertising pros in presidential elections, people's perceptions are often shaped by impressions formed by events that are completely out of the campaigns' control.
Such was the case just before midnight on August 20, 1968, when Soviet troops marched through Prague, putting a sudden and brutal end to the Czechoslovakian communist reform movement that was known, all too briefly, as the "Prague Spring." Seventy-eight days later, Americans gave Richard Nixon an Electoral College margin of 110 votes.
Forty years later, Russian tanks are rolling once more over their neighbors, and the images that are shaping Americans' lasting perceptions are of a president playing in the sand with the women's beach volleyball team and the presumptive Democratic nominee alternately walking along Kailua Beach and playing golf in Hawaii.
While President Bush cheered our athletes in Beijing and Sen. Barack Obama jogged along the beach, Americans were reminded yet again that this is, indeed, a dangerous world -- and that the danger does not just come from organized groups of terrorists but from entire nations, some of which have nuclear weapons and the ability to deliver them.
To his credit, Sen. John McCain took immediate steps to differentiate himself -- not just from Obama, whose initial responses were tepid and hesitant, but from Bush, who portrayed the face of American powerlessness from his seat in the stands of the Bird's Nest.
In contrast to both Bush and Obama, McCain conveyed strength and determination. While Obama timidly urged Georgia and Russia to "show restraint and to avoid an escalation to full-scale war," McCain took to the airwaves to deliver a blunt warning to Russian President Dimitri Medvedev and Prime Minister Vladimir Putin. Your actions will have "severe, long-term negative consequences" for relations with the United States and Europe, McCain declared, as he outlined a plan of action for the West to isolate and punish Russia.
In one weekend, unpredictable events have given McCain a golden opportunity to capitalize on what are some of his strongest attributes as a potential president -- a lifetime of foreign policy experience, a military background and a strong anti-Russian stance. We will soon see if McCain can translate his advantage into a gain in the polls.
When Bush looked into Putin's eyes, he famously claimed to be able to see into his soul, where he found goodness. When McCain looked into those same eyes, he says, he saw three letters: "K-G-B." One can only wonder what Obama might have seen.
One thing Obama ought to see, however, and soon, is the tarmac at Honolulu International Airport. He needs to realize that, when you're president, you're not always in control of events, including vacations. If he fails to cut this holiday short, he might soon wind up being remembered as the guy who blew his chance to be president because he played on the beach while the Russian tanks rolled through Georgia.
The opinions expressed in this commentary are solely those of the writer.
E-mail to a friend

All About John McCain • Barack Obama • Vladimir Putin