From Peter Hamby
CNN
(CNN) -- Reporters on Wednesday got a sneak peek at Meghan McCain's soon-to-be-published book about her father.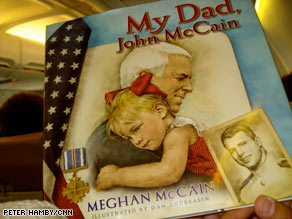 Reporters on John McCain's plane got an early look at his daughter's new book.
The book, called "My Dad, John McCain," is a brief, sentimental look at the familiar elements of McCain's biography, including his time in a Vietnamese prison and his run for the White House in 2000.
Writing about her father is nothing new for the 23-year-old Columbia graduate.
She updates her blog, McCainBloggette.com, several times a week.
The blog, which can be a bit risqué at times, offers a unique, unusual, and close-up look at her dad's campaign and what takes place around it. She also writes about fashion, gossip and pop culture. More on Meghan McCain's blog
Her book, however, is a "picture book biography" geared toward children ages 5 to 10.
Several pages are devoted to McCain's military background and his imprisonment in Vietnam, with relatively little attention paid to his youth (he "broke a lot of rules" in high school, the book says) and to his time in Congress.
Meghan on AC 360
The 23-year-old daughter of John and Cindy McCain talks about life on the trail.
Tonight, 10 p.m.
Illustrated by Dan Andreasen, the pictures in the book are gauzy sketches of famous McCain iconography. There's a drawing of his cadet head shot from the Naval Academy, as well as a rendition of his meeting with Richard Nixon following his return from Vietnam. Another picture depicts McCain sitting forlornly in his Hanoi prison cell.
The book contains a mild dose of the politics, including some of the McCain campaign's over-arching themes, particularly the notion that McCain "puts his country first."
Meghan conjures one of her father's favorite town hall tag lines on the book's final page, writing: "I know he'll say what he really thinks. Maybe it won't be what people want to hear. But it will be the truth."
Mom Cindy McCain, along with Meghan's siblings Jack, Jimmy and Bridget, are described fondly in the book -- but the children from McCain's first marriage are not mentioned.
Don't Miss
One percent of the book's proceeds will go to the Intrepid Fallen Heroes Fund, which provides support for wounded military veterans and their families.
Meghan McCain has always made it clear that she thinks her father would make a great president (she even says so in the opening of her book), but it wasn't until June that she became a registered Republican.
She said she changed her political party affiliation from an Independent to a Republican as a symbol of commitment to her father.
In a statement posted on her blog, she said the choice represents her faith in her father's "ability to be an effective leader for our country and to grow and strengthen the Republican Party when he is elected President of the United States."
E-mail to a friend

CNN's Gary Tuchman contributed to this report.
All About Cindy McCain • Republican Party