(CNN) -- Former Virginia Gov. and Senate candidate Mark Warner will deliver a keynote address at the Democratic National Convention this month.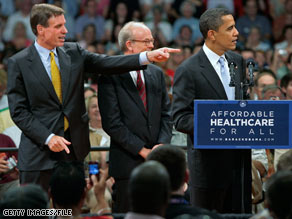 Mark Warner, left, with Rep. Rick Boucher and Sen. Barack Obama, will give the Democratic keynote address.
Sen. Barack Obama's presidential campaign announced Wednesday that Warner will deliver the speech on the convention's second night, August 26. That's the same night former rival Sen. Hillary Clinton will give her prime-time address.
A Democratic source close to Clinton had said, "Tuesday night is Hillary night," before Warner landed the role of keynote speaker.
Four years ago, Obama -- a little-known state lawmaker from Illinois who was running for the U.S. Senate -- had the same role. His speech at the convention in Boston, Massachusetts, was highly praised by Democrats.
Warner, who has been mentioned as a possible contender for the vice presidential spot, won Virginia's governorship in 2001. The win marked the first in a string of statewide election victories by Democrats in a state that Republicans once dominated.

Watch more on the DNC headliner »
Warner is battling Jim Gilmore, another ex-governor of Virginia, to replace retiring Republican Sen. John Warner. (Mark and John Warner are not related.)
In June, Obama kicked off his general election campaign in Virginia, signaling that he thinks he can turn the once solidly red state into a Democratic pickup come November.
Virginia hasn't voted for a Democrat since President Lyndon B. Johnson in 1964, but for more than a year, Obama's campaign has cited the state's 13 electoral votes as part of its argument that he can reshuffle the electoral map this fall.
Democrats said the theme of the second night of their convention will be "Renewing America's Promise."
Meanwhile, with the conventions fast approaching, there's no word on whom Obama and Sen. John McCain will pick as their running mates.
Former Republican Rep. Jim Leach crossed party lines to endorse Obama on Tuesday, saying he hopes the senator from Illinois will consider one of McCain's former GOP allies as his running mate.

Watch how the VP contenders are performing »
Speaking on a conference call with reporters about a new effort among Republicans supporting Obama, Leach said he thinks Sen. Chuck Hagel of Nebraska should be Obama's VP.
"There are a number of impressive potential vice presidential candidates, and this is a singular decision for one person, and that is Barack Obama," Leach said.
"But personally I'd be hopeful in the list of serious candidates to be considered would be Chuck Hagel, whether it be for the veep position or a serious position in an Obama administration."
Leach is a Republican moderate who was a congressman from Iowa's 2nd District for 30 years before losing his seat in 2006.
Shortly after Leach's suggestion, Hagel made it clear that he has no plans to endorse either major-party candidate this year.
"Sen. Hagel has no intention of getting involved in any of the campaigns and is not planning to endorse either candidate," Hagel spokesman Jordan Stark said.
Hagel, a leading Republican voice on international affairs and an outspoken critic of the war in Iraq, joined Obama last month on his trip to the Middle East.
He is not seeking a third Senate term and has said he would consider a VP offer from Obama.
Hagel also is a longtime friend of McCain's and briefly mulled a 2008 presidential bid of his own. He has butted heads with McCain and other leading Republicans over the war in Iraq and sharply criticized McCain's campaign in July for its attacks on Obama.
One of McCain's VP contenders, Sen. Joe Lieberman of Connecticut, questioned Obama's patriotism and bipartisan record Tuesday.
Lieberman said the presidential contest is "between one candidate, John McCain, who's always put the country first, worked across party lines to get things done, and one candidate who has not."
McCain's campaign later distributed those comments to reporters.
Lieberman, an Independent who caucuses with the Democratic Party, again sounded off to reporters onboard McCain's campaign plane during a flight to New Jersey, praising the Republican's record in the Senate and belittling Obama's.
"In the 3½ years Barack Obama has been in the Senate, with all respect, there is very little evidence of that kind of bipartisan outreach," Lieberman said.
"Barack Obama talks about bipartisanship," he continued. "John McCain has lived it, worked it, done it. That's why I think in the end, which is Election Day, which we hope is just the beginning, there are going to be many more Democrats who will vote for John McCain than Republicans who will vote for Barack Obama."
E-mail to a friend

CNN's Paul Steinhauser, Peter Hamby, Alexander Mooney and Victoria Riess contributed to this report.
All About Republican Party • Democratic Party • U.S. Presidential Election