(CNN) -- The media has been abuzz since former Sen. and Democratic presidential candidate John Edwards admitted to an extramarital affair.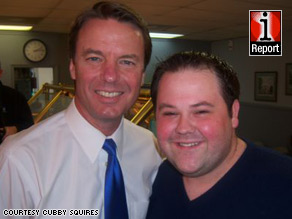 Cubby Squires met John Edwards in 2007. He said news of the affair makes Edwards' political career "nonexistent."
Edwards told ABC News' "Nightline" on Friday that he had an affair with 42-year-old Rielle Hunter. The affair began in 2006 after Hunter was hired to make documentary videos for Edwards' presidential campaign.
The scandal was a hot topic in the news, including among iReport contributors.
"I took it really personally," said Cubby Squires of Charlotte, North Carolina. "I always thought John Edwards was different from the typical politician."
Squires said there has been nonstop coverage of Edwards' affair in Charlotte.
"It just makes his political career nonexistent," he said. "I really don't think he can get into politics again."
Mike Daly of Santa Barbara, California, said he sympathizes with Edwards. Daly, who lost his wife to breast cancer six years ago, noted that Edwards had been facing a great deal: the loss of his child, a failed bid for the Democratic presidential nomination and wife Elizabeth's diagnosis with cancer.
"These are real hard hits and perhaps he's crumbling," Daly said. iReport.com: Read Daly's opinions
Don't Miss
Many iReporters questioned why the Edwards scandal deserves so much media attention.
Carroll Byrd of Richmond, Virginia, described it as a "nonstory," adding that Republican presidential candidate Sen. John McCain deserves the same level of scrutiny of his sexual relations.
"[Edwards] is not a candidate for office now," said Byrd, a supporter of the former senator from North Carolina. "I think something that happened two years ago should be a private matter between him and his wife."
Read below to see a sampling of responses from iReport.com users, some of which have been edited for length and clarity:
iReporter jd1rymal: Good grief. ... He has an affair. Terrible. The shame, the agony of it all. I'm not talking about his moment(s) of weakness, but the blood in the water that the media are feeding on as if they were sharks. Get over it!
Shellyta: No, I am not surprised by a powerful man having an affair. At least twice a year we hear about one of those. What amazes me is how in the world someone thinks that they can get away with something like this without thinking about the consequences.
kardolfin: It is disappointing to hear that Edwards had an affair, but it's not the end of the world. He isn't the first person to do it and I'm sure he won't be the last. It is just a big deal because he was in the presidential race and that it is obviously a negative thing.
I am disappointed in Edwards, but I don't think he is a bad person and I don't think it will destroy him.
captain1944: Obama is in Hawaii, McCain is, as usual, taking the weekend off, and the Olympics are on. The media needs something to fill up airtime.
Now CNN, please, this does not really need to be a 24/7 story.
cgigante: I still believe in John Edwards' message. He was a true progressive candidate with a shot at winning, and it's a shame he'll now be sidelined over an indiscretion like this. Sure, it's no good that he was dishonest in his personal life, but I don't see how it has any bearing on his plans for economic equality and justice in the United States.
JanaSagan: This affair in no way affects or concerns anyone other than the three adults involved. This should not even be in the news. We have no right to judge him or anyone else in matters of love.
It is not a crime to fall out of love with one person and into love with another. Love is beyond our control. No one knows what causes love to begin or end. If we are trying to crucify him for this because of our moral Christian values, then we should also not cast stones on him or judge him. Leave him and his family alone so they can sort this out in peace and dignity.
thebridge: From my perspective, John Edwards' affair does not diminish his capabilities or enhance his lack of capabilities as a leader or public representative or any other job other than being a husband. However wrong or immoral we may find cheating (and lying about cheating), the truth is that it does not necessarily reflect the other roles individuals have to fill.
A great mother could also be a cheater or a great judge could lust after women 50 years his junior. That said, I think John Edwards is the same John Edwards -- politically -- that we knew before his affair hit the news.
E-mail to a friend

All About John Edwards (Politician)