From Lisa Desjardins
CNN Radio
WASHINGTON (CNN) -- As most of Congress continues its August break, House Minority Leader John Boehner wants to continue a rare protest in the chamber for at least another two weeks to force a vote on offshore drilling.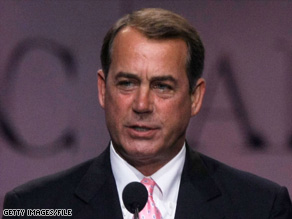 Minority Leader John Boehner wants to continue on the House floor until at least August 22.
In a memo sent to GOP members of Congress on Wednesday, Boehner urged his troops to "indicate your availability for any days during the next two weeks, August 11th through 22nd, as soon as possible."
That covers weekdays until the political conventions start with the Democratic gathering in Denver on August 25.
Until then, Boehner is eager to keep using the House floor to pressure Speaker Nancy Pelosi and other Democrats on energy.
"This is not a request made lightly," he wrote.
Thursday marked the fifth day that Republicans have stood in the unlit, closed House chamber, calling for Congress to return from recess and vote on offshore oil drilling and other GOP energy proposals.

Watch Newt Gingrich say Republicans may shut down the government »
The Boehner memo, obtained by CNN Radio, indicates Republicans believe they're gaining points with the move.
Don't Miss
"We must build on this opening," Boehner wrote, "and keep building on it until the American people have been heard."
Democrats have called the protest a hoax.
Democratic Majority Leader Steny Hoyer sent a statement out Wednesday blasting the GOP as short-sighted. "This week, Republicans are doing nothing but pushing the failed Johnny-one-note policies of the past," he wrote.
Meanwhile, those Republicans like recent polling numbers that suggest that the American public backs their position.
A CNN poll conducted in late July by Opinion Research Corporation found that 69 percent of those surveyed supported increased offshore oil drilling, while 30 percent opposed it.
The poll involved interviews with 1,041 adults conducted July 27-29. The poll's margin of error was plus or minus 4.5 percentage points.
E-mail to a friend

All About Oil Production and Refining • U.S. House of Representatives