(CNN) -- Former President Clinton will speak at the Democratic National Convention, three sources said Thursday.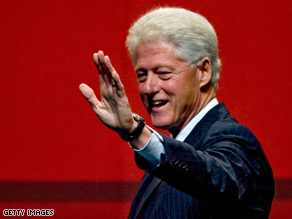 Bill Clinton will have a speaking role at the Democrats' convention in Denver, sources say.
Clinton will speak August 27, the night of the vice presidential nominee's speech, in Denver, Colorado, the sources said.
Clinton and presumptive Democratic presidential nominee Sen. Barack Obama spoke Thursday, sources said.
The convention is set for August 25-28.
Clinton has said he would support Obama's run for the presidency. However, in a recent interview with ABC News, when Clinton was asked whether Obama was "completely qualified," the former president said: "You could argue that nobody is ever ready to be president. I mean, I certainly learned a lot about the job in the first year."
When pressed, Clinton said: "The Constitution sets qualifications for the president. And then the people decide who they think would be the better president. I think we have two choices. I think he should win, and I think he will win."
Obama, responding to the interview, told reporters that Clinton has "been very supportive."
"I thought he showed extraordinary restraint in a fairly provocative interview," Obama said. "I couldn't ask for him to be any more gracious than he's been and supportive since the campaign ended."

Watch what role the Clintons may play at the convention »
Meanwhile, with the convention less than three weeks away, Sen. Hillary Clinton has been making it clear that she wants the voices of her supporters heard.
But the big question is, what kind of voice will they have?
Mixed in with the harmonious calls for party unity are the die-hard Hillary Clinton fans who are holding out hope that her name will appear on the ballot.
She and former rival Obama issued a joint statement Wednesday night saying they are "working together to make sure the fall campaign and the convention are a success."
"At the Democratic convention, we will ensure that the voices of everyone who participated in this historic process are respected and our party will be fully unified heading into the November election," the statement said.
In a message on her blog, Clinton told supporters that "no decisions have been made yet" in regard to the role her backers will have.
At a gathering last week in California, one Clinton supporter asked the former first lady whether -- in a show of unity -- she would consider having her name put in for nomination at the convention.
Don't Miss
"I happen to believe that we will come out stronger if people feel that their voices were heard and their views were respected," Clinton said, adding that giving them a voice could provide a sort of "catharsis" for some of her supporters.
Clinton said she wanted her supporters to leave the convention feeling their voices were heard and satisfied with Obama as the nominee.
"I mean everybody comes, and they want to yell and scream and have their opportunity, and I think that's all to the good, because then, you know, everybody can go, 'OK, great. Now let's go out and win.' "
The senator from New York immediately shot down the notion that she might try to upstage Obama.
"Since the delegate count is so close ... what if you are called up for nomination and what if you do win by a narrow margin?" a questioner asked her at last weekend's event.
"That is not going to happen, not going to happen. Look, what we want to have happen is for Sen. Obama to be nominated by a unified convention of Democrats," she said.
"The best way I think -- and I could be wrong -- but the best way I think to do that is to have a strategy so that my delegates feel like they've had a role and that their legitimacy has been validated and that kind of ... you know, there is a catharsis," she said.
Hillary Clinton is scheduled to deliver a speech on the second day of the convention, which is also the 88th anniversary of the day women were granted the right to vote.
On that day, marches will take place across the country in support of the former presidential candidate.
The grassroots group 18 Million Voices Rise Hillary Rise is planning a march in Denver, where the convention is taking place. The group is coordinating the march with others across the country as well as planning a festival in downtown Denver.
The group said its goal is to celebrate Clinton's achievement and advocate for women's rights. The group also said it is dedicated to seeing Clinton in the White House.
Clinton suspended her presidential campaign June 7 after a protracted primary battle with Obama. She urged the 18 million people who voted for her to get behind Obama, but not all of her backers have followed suit.
Because Clinton suspended her campaign instead of dropping out, she held on to the pledged delegates she earned in the primaries and caucuses. The superdelegates -- a group of party officials and leaders -- can endorse any candidate at any time.
Since announcing the suspension of her campaign, Clinton has gone to great lengths to promote party unity. She and Obama even made a joint appearance in Unity, New Hampshire, where both candidates received the same amount of votes in that state's primary in January.
Clinton also is slated to campaign for Obama in Nevada on Friday.
The prospect of Clinton joining the ticket as a running mate remains the subject of much speculation, even as some said they believe the odds of Obama choosing her may have diminished in recent weeks.

Watch Clinton weigh in on the VP prospects »
In a live Web chat on her campaign site Thursday, Clinton did not rule out the possibility she would accept the job if it were offered.
"I have said repeatedly that I will do whatever Sen. Obama asks me to do," she said.
"I am really focused and enjoying being back in the Senate and working on behalf of my New York constituents. This is Sen. Obama's decision and his alone, and I am going to respect the privacy of that process by not discussing it."
E-mail to a friend

CNN's Candy Crowley, Gloria Borger and Mark Preston contributed to this report.
All About Hillary Clinton • Democratic Party • Barack Obama