(CNN) -- Sen. Barack Obama said Sunday that delegates from Florida and Michigan should get a "full vote" at the Democratic convention this month.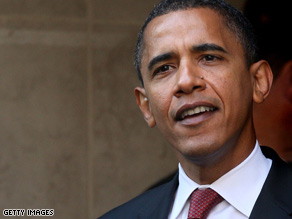 Sen. Barack Obama said Sunday that Michigan and Florida delegates should get a full vote.
"I believe party unity calls for the delegates from Florida and Michigan to be able to participate fully alongside the delegates from the other states and territories," he said in a letter to the co-chairs of the Democratic National Convention's Credentials Committee.
Obama asked the committee to pass a resolution when it meets on August 24 to give each delegate a full vote.
Florida and Michigan were stripped of their delegates as a penalty for holding their primaries too early. During the primary season, there were growing calls to seat the delegations as Obama and Sen. Hillary Clinton were locked in a tight race for their party's nomination. Obama and Clinton were about 100 delegates apart in March, and Florida and Michigan's cache of 366 delegates had the potential to shake up the race.
The battle over the states' delegates became a key issue on the campaign trail. Clinton had long advocated seating both states' delegations. She won both primaries, but the Democratic candidates had agreed to not campaign in the two states and she was the only top-tier candidate on the ballot in Michigan.
Clinton's message that "every vote should count" became a key theme in her stump speeches. She accused Obama of being "un-American" for not backing plans to hold a revote in the two states.
The Illinois senator denied claims he was standing in the way of revotes.
Don't Miss
"I want the Michigan delegation and the Florida delegation to be seated. And however the Democratic National Committee determines we can get that done, I'm happy to abide by those rules," he told CNN in March.
After months of wrangling over what to do, the DNC's rules and bylaws committee voted in late May to reinstate all of Florida and Michigan's delegates, with each getting a half-vote.
In his letter Sunday, Obama said all the delegates should be seated with a full vote for the sake of party unity.
"As a candidate for the nomination, I supported the DNC's efforts to establish and enforce a schedule for primaries and caucuses that would broaden the opportunity for Democrats from all regions of the country and all backgrounds and walks of life to have a meaningful voice," he wrote.
"As we prepare to come together in Denver, however, we must be -- and will be -- united in our determination to change the course of our nation. To that end, Democrats in Florida and Michigan must know that they are full partners and colleagues in our historic mission to reshape Washington and lead our country in a new direction."
Clinton on Sunday called Obama's request "the right position" for their party.
"During the campaign, I strongly advocated for the Democratic Party to seat the Florida and Michigan delegation with their full votes. The Democratic Party has always stood up for the principle of counting every person's vote. Today, Sen. Obama has requested that the Credentials Committee give Florida and Michigan delegates their full votes. This is the right position for the Democratic Party and for the country and I urge the Credentials Committee to restore full votes to Florida and Michigan delegates," she said in a statement.
In a statement issued Sunday, the DNC and the Credentials Committee said they "deeply appreciate and value Sen. Obama's perspective."
"This matter will be the top priority for the Credentials Committee when we meet on August 24. As always our goal is to ensure a fair process and a unified Democratic Party so that we can win in November."
The Democratic convention takes place August 25-28 in Denver, Colorado.
E-mail to a friend

All About Barack Obama • U.S. Presidential Election • Hillary Clinton