By Rick DiBella
CNN
WASHINGTON (CNN) -- As if Sen. Ted Stevens didn't have enough problems, Sen. Barack Obama might add to them.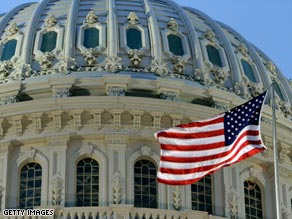 Senate Democrats are hoping the 2008 presidential election could give them a big majority.
Stevens was indicted Tuesday, charged with scheming to conceal thousands of dollars worth of gifts from a major employer in his state, a company on whose behalf he sometimes intervened in Washington. Stevens pleaded not guilty Thursday.
Adding to Stevens' woes, Obama may put his state in play.
The Obama campaign has designated Alaska as one of 18 battleground states that it aims to take away from McCain. And to put some money where their mouths are, Obama's people have opened three campaign offices and are running ads in the state. Obama's anti-incumbency message of change doesn't bode well for Stevens, and neither would a high turnout for the Illinois senator.
Stevens' opponent, Anchorage Mayor Mark Begich, could accomplish something that no Democrat has done since 1974: persuade Alaskans to send him to the U.S. Senate. The last Democrat to pull that off was Mike Gravel, who briefly ran against Obama and seven other candidates for the party's presidential nomination.
The battle for the Senate has been overshadowed by the presidential race, but just as important as who will reside in the White House is whether Democrats can get 60 seats in the Senate.
Don't Miss
The "Magic 60" would give Democrats a filibuster-proof majority, and the keys to true power in the Senate. Assuming that their party leaders could keep Democratic senators in line, 60 votes would mean a fast track for their agenda, prevent Republicans from blocking it and a clear path for their nominations for the federal bench.
Not since the 95th Congress of 1977-79, when Democrats had 61 seats, has either party had a veto-proof majority.
Democrats now have an advantage in the Senate. Although both parties hold 49 seats, the remaining two independents caucus with the Democrats.
The worst nightmare for Republicans on Election Day is the Democrats' best-case scenario: control of the White House, a nine-seat net gain in the Senate, and a healthy gain on their 36-seat majority in the House. In that case, Democrats could steamroll President Obama's agenda into law.
Even before Stevens' indictment, the landscape looked rough for Republicans.
Stu Rothenberg, a veteran election analyst and author of the Rothenberg Political Report, told CNN: "Two years ago was a horrible election for Republicans in a horrible environment. The environment is now worse for Republicans than it was two years ago, and that means the election results could be as bad, or even worse."
Indeed, all signs point to Democrats picking up seats. The question is: How many?
Of 35 Senate seats up for re-election this year, 23 are now held by Republicans.
Five Republican senators are retiring: Pete Domenici of New Mexico, Wayne Allard of Colorado, John Warner of Virginia, Larry Craig of Idaho and Chuck Hagel of Nebraska.
According to CNN's Electoral College map, Colorado, New Mexico and Virginia will either vote solidly for Obama, lean toward him or are toss-ups. Moreover, four Republican incumbents are defending seats in states that will either vote solidly for Obama, are leaning toward him or are toss-ups: Gordon Smith in Oregon, Susan Collins in Maine, John Sununu in New Hampshire and Norm Coleman in Minnesota.
Of these nine seats, only Nebraska and Idaho are on Rothenberg's safe list. And he says Smith has a narrow advantage, and Collins has a clear one.
Rothenberg thinks Democrats will take the Virginia seat. And he considers New Hampshire, New Mexico, Colorado, Minnesota and Alaska in either in the lean-takeover or toss-up category.
Democrats have a much easier field to plow. Of their 12 incumbents, none are retiring. Moreover, only four are in states that either lean to McCain or are solidly in his column: Mary Landrieu in Louisiana, Tim Johnson in South Dakota, Tom Harkin in Iowa and Jay Rockefeller in West Virginia.
And of those four, only Landrieu shows up on Rothenberg's toss-up list, and Harkin, Rockefeller and Johnson are deemed safe.
Two other seats that pop up on the watch list are both now held by the GOP: Elizabeth Dole in North Carolina and Roger Wicker in Mississippi. But Rothenberg deems the incumbents to have the advantage in both of the seats.
In sum, of 10 seats that seem to be in play this year, nine of them are now held by Republicans. If Democrats can manage to shoot the moon and win each of those seats, and hold Landrieu's seat in Louisiana, they'd attain the 60-40 majority.
Sen. Chuck Schumer of New York, the Democrats' in-house electoral expert, says it's not out of the question.
There's one number that Republicans might have on their side.
According to a recent CNN/Opinion Research Corp. poll, 63 percent of those surveyed disapprove of how congressional Democratic leaders are doing their job.
So while an Obama election could help Democrats make gains in the Senate, it could prevent them from reaching the magic number.
Should Obama be elected and tap Indiana Sen. Evan Bayh as his running mate, Bayh's vacancy would be filled by Indiana's Republican Gov. Mitch Daniels. Should Bayh take the job, Daniels would appoint a Republican to fill his vacant seat, and the balance of power would be 59-41.
E-mail to a friend

All About U.S. Congress • Republican Party • Democratic Party