From Suzanne Malveaux
CNN White House Correspondent

WASHINGTON (CNN) -- Sen. Hillary Clinton has agreed to speak on the second night of next month's Democratic convention, sources say.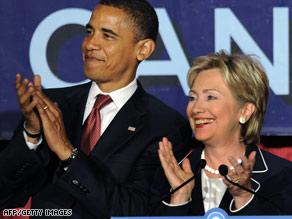 Sen. Hillary Clinton will soon hit the campaign trail for Sen. Barack Obama, sources say.
Two sources close to Clinton said the former presidential candidate will headline on August 26 -- the 88th anniversary of the day women earned the right to vote.
"Tuesday night is Hillary night," said one supporter.
Clinton will be joined on stage with the female Democratic U.S. senators, the sources said.
Those close to Clinton say that she believes there is little chance that she will be Obama's running mate.
While there could be a change of schedule, the vice presidential pick is expected to speak on Wednesday night.

Watch why Clinton's VP chances look slim »
"From what we can gather, she's not really on the short list," said Gloria Borger, a CNN senior political analyst. "The reason Hillary Clinton is out is because she's not on message for Barack Obama, her campaign is not about change, she represents Washington."
Meanwhile, the group Vote Both, which had been pushing for a joint Obama-Clinton ticket, said in a e-mail to supporters Wednesday night that Clinton's chances of being Obama's running mate were slim.
Don't Miss
"This is a sign that she is not being considered seriously by the campaign. Along with you, we would have loved to have seen a dream ticket with both Obama and Clinton, but because Sen. Obama has made his decision to offer the slot on the ticket to another candidate, we believe that continuing to ask him to pick Hillary is no longer helpful to our party's chances of winning in November," the e-mail said.
A message on the group's Web site urged Clinton supporters to back Obama. Some have said they would rather vote for John McCain, the presumptive Republican nominee, than throw their support to Obama.
"While we all were working toward a different result, ultimately we and Barack Obama are working for the same eventual outcome -- getting ready to take back the White House and bring our country the change Americans deserve and so desperately need," the message said.
Sources close to Clinton said the Obama campaign has asked her to hit the trail for Obama, and she will soon do so in the next couple of weeks -- focusing on Nevada, Ohio and Florida.
She's been told, according to the sources, to expect to travel a lot this fall. Those close to her say she's completely comfortable with that, and not angry with Obama.
Clinton's 18 million primary voters were once painted as the 18 million reasons Obama would want to pick her for the No. 2 spot.
Clinton made it clear that it was a job she'd take, if asked. Her closest friends did her bidding.
Mindful not to disrespect Clinton or alienate her supporters, Obama insists she hasn't been ruled out.
"I've said consistently that I think Hillary Clinton would be on anybody's short list," Obama said on NBC's "Meet The Press" on Sunday.
But as the short list gets shorter, the political calculations seem a little more clear.

Watch more on the Obama vice presidential speculation »
"Hillary Clinton would be in the ticket if the Barack Obama campaign felt that they were in some trouble with the voters that she brings -- the older women, those voters in rural America, battleground states. They don't think they are in trouble there, so they probably don't think they need her," Borger said.
At the same time Clinton is now fully engaged in talks with the Obama team, the buzz is intensifying over who could be a running mate capable of bringing in Clinton voters.
"There is no one running mate that could deliver her supporters in one swoop the way she could, but I do think, for example, that Evan Bayh of Indiana could go to Indiana, which is turning into a battleground state, and help Obama there," Borger added.
Sen. Bayh was also originally a big Clinton supporter and was by her side during much of the primary season.
E-mail to a friend

All About Hillary Clinton • Barack Obama • Evan Bayh