From Brian Todd
CNN
(CNN) -- Even before news broke of Alaskan Sen. Ted Stevens' indictment on corruption charges, analysts were saying that Republicans in Congress haven't been this vulnerable in decades.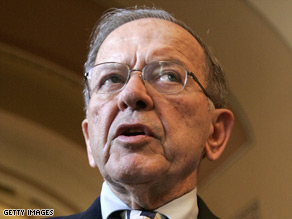 Sen. Ted Stevens' charges are the latest blow to the Republican Party.
Now Republican fears are growing that Democrats could lock in a filibuster-proof 60-40 majority in Congress.
"It's a tough environment for Republicans, there's no question about it," said Rep. John Boehner, the House minority leader.
That tough year just got tougher as Stevens, the longest-serving Republican in the Senate, was indicted Tuesday on corruption charges.
Stevens, 84, was charged with scheming to conceal thousands of dollars worth of gifts from a major employer in his state, a company on whose behalf he sometimes intervened in Washington.
Stevens denies the charges. "I am innocent of these charges and intend to prove that," the veteran lawmaker said in a written statement.
But the outlook for Stevens was bad even before the charges: He trailed his Democratic challenger in November's election by 9 points, according to a Rasmussen poll released last week.
Despite the idea of innocence until proved guilty, his allies in the Senate were quick to distance themselves from him as their re-election bids move full speed ahead.
"Two years ago was a horrible election for Republicans in a horrible environment. The environment is now worse for Republicans than it was two years ago, and that means the election results could be as bad or even worse," said Stuart Rothenberg of the Rothenberg Political Report.
On Tuesday, Sen. Gordon Smith, R-Oregon, joined a group of GOP senators who promised to separate from campaign money Stevens gave them, according to reports.
Smith's spokeswoman said he plans to donate to charity the $10,000 that Stevens' leadership political action committee gave him for his re-election campaign.
Sen. Elizabeth Dole of North Carolina said she'd do the same with the $10,000 she got from Stevens' leadership PAC, as will Sen. Pat Roberts of Kansas with his $20,000, Sen. John Sununu of New Hampshire with his $10,000 and Sen. Susan Collins of Maine with her $10,000, according to reports.
On Wednesday, Stevens returned to work in the Senate, where some colleagues greeted him kindly. He was mobbed by photographers and reporters when he left, telling them he would make a statement later.

Watch Stevens return to work »
Rothenberg projects that in the Senate, the Republicans will have trouble holding on to seats in at least eight states, while the Democrats will have just one, partly because five Republican senators are retiring after this session.
Even Sen. John McCain, the presumptive Republican nominee, said last month that Republicans in Congress have a "brand problem."
Word of Stevens' legal woes only add to an image tarnished by an alleged sex scandal involving Sen. Larry Craig, Sen. David Vitter's ties to the D.C. Madam and the Jack Abramoff lobbying scandal that landed Republican staffers and one congressman in jail.
"Right now, there is a frustration among Republicans that they need to clean house, that they need to rebuild their party. They need to rebuild their image, and there's something to be said that they could have hit rock bottom now," said Mark Preston, CNN's political editor.
E-mail to a friend

All About Ted Stevens • U.S. Senate