From Alexander Mooney
CNN

WASHINGTON (CNN) -- It was a weeklong trip that drew blanket media coverage and sharp criticism from Republicans, but Sen. Barack Obama's recent tour abroad did little to alter his standing in the presidential race, according to a new CNN/Opinion Research Corp. poll.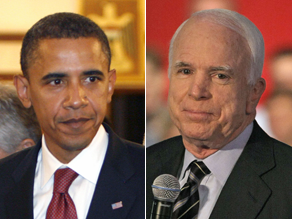 A CNN/Opinion Research Corp. poll shows Sen. Barack Obama ahead of Sen. John McCain.
According to the survey -- the first national poll conducted entirely after the Democratic presidential candidate's trip to Iraq, Afghanistan, the Middle East and Europe -- the race for the White House has remained virtually unchanged since late June, with Obama holding a 51 percent to 44 percent edge over presumed Republican nominee Sen. John McCain.
In a similar poll conducted one month ago, Obama held a 5 point lead over McCain, 50 percent to 45 percent.
The CNN poll of polls, an average of several recent national surveys, also shows a single-digit lead for Obama (48 percent to 45 percent). That keeps McCain within easy striking distance of his Democratic rival with fewer than 100 days before the election.
The new survey also suggests that the trip, carefully designed to burnish Obama's foreign policy credentials, did little to alter voters' perceptions of how the Illinois senator would handle national security issues.

Watch more on summer polls »
"Did Obama's trip help his standing with the public on foreign policy issues? Not really," CNN Polling Director Keating Holland said. "Obama has not picked up any ground against McCain on foreign issues, and some 52 percent think McCain would do a better job than Obama on the war in Iraq, virtually the same number who felt that way in April."

Watch Obama's speech in Berlin »
The poll also shows McCain with an edge on terrorism, Iran, Afghanistan and the Middle East. Every foreign policy and national security issue tested tilts toward McCain: terrorism, Afghanistan, Iraq, the Middle East, Iran and immigration.
Don't Miss
The poll suggests that few of the McCain campaign's criticisms of Obama's trip have stuck, especially charges Obama was presumptuously acting as if he had already won the election and claims that he nixed a visit with injured troops because members of the media could not accompany him.
Instead, more than two-thirds of voters surveyed said the trip was appropriate for a presidential candidate, and 72 percent said they think Obama cares about veterans and the troops in Iraq.
A third of voters polled said they believe that Obama is arrogant, about the same number who said that of McCain. That result comes the same day the McCain campaign released a hard-hitting ad that declares Obama is the "biggest celebrity in the world."

Watch the ad »
"There is some danger for McCain in making these charges. Forty percent say he is attacking Obama unfairly, while only 22 percent say Obama is unfairly attacking McCain," Holland said. "Nonetheless, both men have very high favorable ratings."
McCain falls behind Obama in every single economic and domestic issue tested by the poll, especially when it comes to jobs and health care. Obama polls ahead in both those categories by double-digit margins.
McCain, who has pledged to extend President Bush's tax cuts despite his initial opposition to them in the Senate, trails Obama in that category by 6 points.
The Arizona senator also polls lower on the issue of high gas prices, a problem McCain has repeatedly said he's better able to alleviate than Obama.

Watch McCain discuss campaign issues with CNN's Wolf Blitzer »
"McCain has started to run ads blaming Obama for higher gas prices, but by a 51 to 40 percent margin, the public thinks Obama would do a better job handling that issue than McCain," Holland said.
There is one McCain complaint many of those polled appeared to agree with: Nearly 40 percent said the media coverage of the Democratic presidential candidate has been too positive. Less than half said it has been about right. That compares with 12 percent who said the coverage of McCain has been too positive and the nearly two-thirds who said it has been about right.
Just as the survey shows that the race remains fundamentally unchanged since last month, it also suggests that the dynamics could easily change before November.
A quarter of all voters polled said they may change their minds between now and November. Thirty-eight percent said they will definitely vote for Obama, and 33 percent said they will definitely vote for McCain.
"You should treat polls at this stage of the game as you would a scoreboard in the third inning of a baseball game. Both show you who is ahead at the moment, not who will win the game," Holland said.
The poll, conducted July 27-29, surveyed 914 registered voters and carries a margin of error of plus or minus 3 percentage points.
E-mail to a friend

CNN political producer Ed Hornick contributed to this report.
All About Barack Obama • John McCain