(CNN) -- The campaigns for John McCain and Barack Obama on Monday shrugged off any suggestion that the two candidates are coming together on Iraq.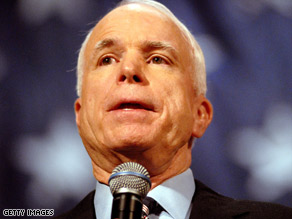 John McCain's campaign says they are not backing Barack Obama's timetable for withdrawal.
"The difference between the two candidates going into November is that Barack Obama wants a rigid timeline for withdrawal," McCain spokesman Tucker Bounds said on CNN's "American Morning."
"John McCain wants to start reducing our troops, keeping the gains in security that we've earned in Iraq, but by doing so, avoiding a third war.
"Bringing them home with victory is the important contrast between the two candidates," Bounds said.
Over the weekend, both campaigns accused the other candidate of shifting his Iraq policy to be more in line with their own.
In an interview with CNN on Friday, McCain said the proposed 16-month timetable for withdrawing troops was "a pretty good timetable based on conditions on the ground."
That comment sparked suggestions that McCain was embracing Obama's timeline, but McCain insisted that was not what he meant.
"Look, I have always said -- and I said then -- it's the conditions on the ground," he said Sunday on ABC's "This Week."
Over the weekend, McCain's campaign put out a statement implying that Obama was aligning his Iraq policy with McCain's.
"Today Barack Obama finally abandoned his dangerous insistence on an unconditional withdrawal of U.S. combat troops from Iraq by making clear that for the foreseeable future, troop levels in Iraq will be 'entirely conditions based.' We welcome this latest shift in Senator Obama's position, but it is obvious that it was only a lack of experience and judgment that kept him from arriving at this position sooner," the campaign said.
Those comments stemmed from an interview published this weekend in Newsweek in which Obama was asked about what sort of residual forces he would keep in Iraq, now that he has talked with diplomatic and military leaders there.
"I do think that's entirely conditions-based. It's hard to anticipate where we may be six months from now, or a year from now, or a year and a half from now," he said.
Obama's campaign said Monday the Illinois senator was "absolutely not" shifting his Iraq policy.
"What's he talked about is removing our troops as carefully as we were careless getting in -- in a 16-month timetable," said Robert Gibbs, Obama's communications director.
"He's always talked about keeping a residual force either in Iraq or in the region to deal with counterterrorism. And that's the type of force that it's unclear what type of size you would have for that, because you'd have to see what the conditions were at that point," Gibbs said on "American Morning."
McCain's campaign also has launched an aggressive television ad that charges Obama does not have the troops' best interests in mind.

Watch more on the new ad »
In the ad, Obama is chided for making "time to go to the gym" instead of visiting with wounded troops in Landstuhl as he had planned to do while in Germany.
"Seems the Pentagon wouldn't allow him to bring cameras. John McCain is always there for our troops," the announcer says.
Obama's campaign said they canceled the visit because the Pentagon expressed concerns that it would be viewed as a campaign trip.
"The last thing [Obama] wanted was to have injured soldiers get pulled into the back-and-forth of a political campaign. That's why we imagine Senator McCain would be surprised that his campaign released this wildly inappropriate accusation that politicizes the issue," the campaign said in a statement.
The Obama camp also pointed out that the video of Obama in the ad shows him playing basketball during his visit with soldiers in Kuwait last week.
Meanwhile, both candidates start the week turning their attention away from foreign affairs. Obama is focusing on the economy and meeting in Washington with a group of economic experts, including former Fed Chair Paul Volcker, Warren Buffet and Google Chief Executive Officer Eric Schmidt.
McCain is in California on Monday for a series of fundraisers in Bakersfield and San Francisco. His campaign is holding a conference call with its economic advisers.
E-mail to a friend

All About John McCain • Barack Obama • Iraq War