CHICAGO, Illinois (CNN) -- Sen. Barack Obama on Sunday rejected criticism of his just-completed eight-day tour through the Middle East and Europe, saying the trip could ultimately help make him a more effective president.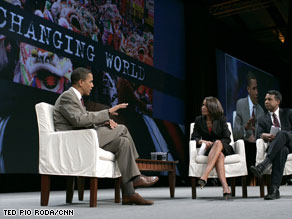 Sen. Barack Obama says he's not sure what the political effects of his trip will be.
"I was puzzled by this notion that somehow what we were doing was in any way different from what Sen. [John] McCain or a lot of presidential candidates have done in the past. Now, I admit we did it really well," Obama told journalists at a conference in Chicago, when asked about criticism that he may have come across as though he was running for "president of the world."
McCain traveled overseas in March after becoming the presumptive Republican presidential nominee. He met with leaders and dignitaries, but his trip did not include a huge rally.
For the public highlight of Obama's trip, his campaign distributed flyers throughout Berlin, Germany, and helped draw some 200,000 people to a speech he delivered at the Victory Column in the Tiergarten, a park in the center of the German capital.
Obama said he does not know "the political effect" his trip could have in the United States.

Watch as Obama answers questions at the conference »
"Probably a week of me focusing on international issues doesn't necessarily translate into higher poll numbers here in the United States, because people are understandably concerned about the immediate effects of the economy. And that's what we will be talking about for the duration," the Illinois senator said.
However, he added, "I do think that in terms of me governing, being an effective president, that that trip was helpful, because I think I've established relationships and a certain bond of trust with key leaders around the world who have taken measure of my positions and how I operate. And I think can come away with some confidence that this is somebody I can deal with."
McCain declined an invitation to address the Unity Conference of minority journalists, which happened to take place this year in Obama's hometown of Chicago. The audience included not only journalists but others who work in media, and Obama received frequent applause as he fielded questions Sunday in an event broadcast on CNN.
Obama was asked why he hasn't officially reversed his opposition to the so-called "surge" of U.S. troops in Iraq -- which commanders credit for a decrease in violence -- particularly given how frequently he slammed Sen. Hillary Clinton during the primary race for not having declared her vote to authorize the war a mistake.
Obama said he has acknowledged the increase in troops helped quell the violence, and insisted, "The key now is: How do we move forward?"
Obama also complained, "It is fascinating to me to hear you guys re-emphasize this over and over again. I have not heard yet somebody ask John McCain whether his vote to go into Iraq was a mistake. I haven't, during the entire week that we were having this conversation."
McCain has been asked such questions repeatedly, including in a CNN interview broadcast Friday and again Sunday morning on CNN's "Late Edition with Wolf Blitzer." In that interview, McCain stood by his original support for the war.
"The fact is that Saddam Hussein was bent on the development of weapons of mass destruction," he said.
McCain has also hammered Obama for having canceled plans to visit wounded troops at a U.S. base in Germany. In an interview broadcast Sunday on ABC's "This Week," McCain said the troops "would have loved to have seen him," and added that he visited wounded troops at Landstuhl during his trip.
"He certainly found time to do other things," McCain said of Obama.
Obama has said he did not want to come across as politicizing wounded U.S. troops, and that he has visited wounded troops at other times. The Middle East portion of Obama's trip included visits with American troops.
An Obama adviser said the Pentagon contacted the campaign to discourage the planned visit in Germany.
Obama used his appearance at the Unity conference to attack McCain for allegedly having "flipped" on an issue involving affirmative action.
In the ABC interview Sunday morning, McCain said he supports an Arizona ballot initiative aimed at ending race and gender-based preference programs in Arizona. The Associated Press reported that McCain called a similar initiative 10 years ago "divisive."
McCain told ABC Sunday he has "not seen the details of some of these proposals. But I've always opposed quotas."
In a statement issued to CNN on Sunday, McCain spokesman Tucker Bounds reiterated McCain's opposition to quotas.
"John McCain has always been opposed to government mandated hiring quotas, because he believes that regardless of race, ethnicity or gender, the law should be equally applied. He has long stood for the protection of civil rights and equal opportunity for all Americans," he said.
When pressed about calling the 1998 initiative divisive, the campaign would not address the issue and instead reiterated that McCain doesn't support quotas.
E-mail to a friend

CNN's Josh Levs and Alexander Marquardt contributed to this report.
All About Barack Obama • John McCain • U.S. Presidential Election