PARIS, France (CNN) -- Barack Obama said Friday that persuading NATO allies to contribute more troops to Afghanistan could lead to U.S. troop cuts and help improve the U.S. economy, with reduced military expenditure being diverted into tax cuts to help middle class families.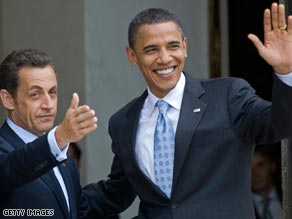 Barack Obama and French President Nicolas Sarkozy on Friday in Paris.
"Part of getting that right is having the Europeans engaged and involved in this same battle that we're involved with," the Democratic presidential contender told CNN's Candy Crowley in Berlin, Germany, where he had addressed an estimated crowd of 200,000 a day earlier.
Obama's multination trip, which has included stopovers in Afghanistan, Iraq and Israel, is aimed at bolstering his foreign policy credentials. The one-term senator has been criticized as inexperienced by Republican rival John McCain.
Obama landed in France on Friday for a meeting with President Nicolas Sarkozy. He ended Friday in the UK where he was scheduled to meet Prime MInister Gordon Brown and opposition leader David Cameron.
Asked what message his traveling abroad three months before the election sent to Americans, Obama said getting commitments from the United States' partners would help address some of the domestic issues Americans are facing.
"If we have more NATO troops in Afghanistan, then that's potentially fewer American troops over the long term, which means we're spending fewer billions of dollars, which means we can invest those billions of dollars in making sure we're providing tax cuts to middle class families who are struggling with higher gas prices that will have an impact on our economy."

Watch Barack Obama's complete interview with CNN's Candy Crowley »
Obama also said his trip was aimed at reasserting American respect in the world: "I wouldn't underestimate the degree to which people in Ohio -- or people in Michigan or Missouri -- recognize that our long-term safety and our long-term security is going to depend on how we can interact with key allies."
Obama, who says he is making the trip as a U.S. senator rather than as a candidate for the White House, held a joint news conference Friday with Sarkozy.
Don't Miss
They pointed out that when Sarkozy visited the U.S. before he was elected president he met only two senators -- Obama and McCain.
On the campaign trail in the United States, Obama regularly contrasts his foreign policy view against that of President Bush.
But in France he did not go that far, saying he was respecting the tradition that "you don't criticize a sitting president while overseas."
"I can say affirmatively an effective U.S. foreign policy will be based on our ability not only to project power, but also to listen and to build consensus," Obama said.
"The U.S. and Europe can and will achieve far more when we join in a common cause," he added.
Obama's address to Berliners earned a warm but cautious response from German newspapers Friday, with several noting that he had called for a greater NATO contribution in Afghanistan. Read what German newspapers made of Obama's speech
Obama used the speech to warn about the dangers of allowing new walls to come between the U.S. and its allies, highlighted what he saw as common transatlantic goals while also accepting the differences of the Bush years.
In an echo of former President Ronald Reagan's speech when he demanded the Berlin Wall be pulled down, Obama said: "The walls between the countries with the most and those with the least cannot stand. The walls between races and tribes; natives and immigrants; Christian and Muslim and Jew cannot stand. These now are the walls we must tear down."

Watch Obama in Germany »
He touched on issues that have generally divided Europe and the U.S. such as climate change as well as comparing Berlin's Cold War struggle with today's international challenges like fighting terrorism.
"People of the world -- look at Berlin, where a wall came down, a continent came together, and history proved that there is no challenge too great for a world that stands as one," he said.
"While the 20th century taught us that we share a common destiny, the 21st has revealed a world more intertwined than at any time in human history."
He said the fall of the Berlin Wall offered hope as the world faces up to international challenges such as terrorism, climate change and rogue nuclear-armed states.
E-mail to a friend

All About Barack Obama • Germany