From Ed Hornick
CNN

(CNN) -- Sen. John McCain sharpened his attacks against Sen. Barack Obama on Thursday, saying he'd rather give a speech in Germany as president than as a presidential candidate.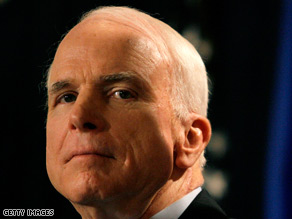 Sen. John McCain's campaign is doing what it can to counter the publicity from Sen. Barack Obama's trip.
Obama was in Berlin for the latest leg of an international trip intended to bolster his foreign policy credentials at home and set out his vision for a new era of transatlantic cooperation.
McCain was campaigning Thursday in Ohio, focusing on health care.
Speaking to reporters outside Schmidt's Restaurant and Banquet Haus, a German eatery in Columbus, Ohio, McCain responded to Obama's Berlin speech, which attracted large crowds at the Victory Column.
"Well, I'd love to give a speech in Germany ... a political speech or a speech that maybe the German people would be interested in," he said. "But I would much prefer to do it as president of the United States rather than as a candidate for the office of the presidency."

Watch more of McCain's comments »
Later Thursday, McCain spokesman Tucker Bounds responded to Obama's Berlin speech.
"While Barack Obama took a premature victory lap today in the heart of Berlin, proclaiming himself a 'citizen of the world,' John McCain continued to make his case to the American citizens who will decide this election," he wrote. "Barack Obama offered eloquent praise for this country, but the contrast is clear. John McCain has dedicated his life to serving, improving and protecting America. Barack Obama spent an afternoon talking about it."
The presumptive GOP presidential nominee also took a veiled swipe at Obama's meetings with foreign leaders during the Democrat's weeklong trip to Europe and the Middle East.
"I have very good relations with ... many of the European leaders. ... It's not my first meeting with them or with the leaders in Israel and the Palestinians," McCain said.
"I'm very happy that a lot of these new leaders in Europe, particularly in France and Germany, are much more pro-American than their predecessors were. That's just a fact. So I intend to work with them. ... I have relations with them for many years standing, and they're important, particularly in Afghanistan."
McCain also lashed out at Obama's policy on Iraq.
"It is very clear that Sen. Obama does not understand what's at stake here, what was at stake in Iraq, and his refusal to acknowledge that the surge has succeeded is again a graphic demonstration of his lack of understanding of national security issues," he said, referring to the 2007 escalation of U.S. troops in Iraq.
"So it is pretty obvious he's taken this position in order to secure the nomination of his party by taking the far left position."
McCain and Obama have different views on how to handle the situation in Iraq. McCain says troop withdrawal should be based on conditions on the ground, but Obama advocates removing all combat brigades within 16 months of taking office.
Obama is firing back at his Republican challenger for saying, "it seems to me that Sen. Obama would rather lose a war in order to win a political campaign."
Obama told NBC News that he was disappointed by McCain's language.
"For him to suggest that I don't, for him to suggest that I'm somehow less concerned about the safety of my wife and my daughter, was unfortunate," he said Wednesday.
One political observer says McCain's suggestion that Obama is more interested in winning the election than the war could backfire.
"It's red meat for the Republican base," University of Virginia professor Larry Sabato said. "But this election, as all elections, will be decided by swing independent moderates, and they tend not to like language like that."
The speech -- and McCain's criticism -- comes on the same day a new CNN "poll of polls" shows that Obama holds a lead of 4 percentage points over the GOP senator.
The average of the three most recent national surveys of registered voters shows the senator from Illinois with 47 percent and McCain with 43 percent. About 10 percent say they are undecided. There isn't a margin of error in the poll of polls.
The margin between the two presidential candidates has narrowed slightly over the past week. In a CNN poll of polls July 16, Obama and McCain were separated by 6 percentage points.
The latest poll of polls includes recent surveys from Gallup, NBC/The Wall Street Journal, and ABC/The Washington Post.
McCain's campaign is doing what it can to keep Obama from using the overseas trip to burnish his foreign policy credentials.
The German capital wasn't the only Berlin to be front and center in the presidential campaign Thursday: The Republican National Committee aired radio ads promoting McCain's candidacy in Berlin, New Hampshire; Berlin, Pennsylvania; and Berlin, Wisconsin.

Watch more on the ads »
They're not the most expensive media markets for the RNC but perhaps a clever way to gain some national press and buzz in three battleground states while Obama delivered one of the biggest speeches of the campaign cycle in the European capital.
E-mail to a friend

CNN's Tasha Diakides and Mark Preston contributed to this report.
All About John McCain • Barack Obama