(CNN) -- Both Sen. Barack Obama and Sen. John McCain are treading some unfamiliar campaign-year terrain this summer as key blocs of ethnic voters shift the electoral landscape and put previously uncontested states, big and small, up for grabs.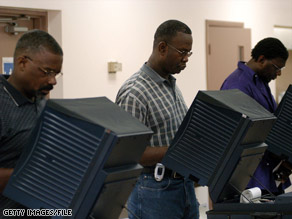 Sen. Barack Obama's campaign is expected to make massive gains among minority voters in November.
In Montana, Obama's spring visit to a Crow reservation highlighted a fresh fight to harness the often-overlooked Native American vote and may have proved decisive. Now, his campaign is hoping support from that community might help put his effort over the top.
In a string of key battleground states, from Colorado and New Mexico in the west to Florida in the east, the Hispanic vote could make the difference.
Stuart Rothenberg, editor of the nonpartisan Rothenberg Political Report, casts a skeptical eye on many Democrats who, he says, "look at any state that has any African-American voters and talk about how it's putting every state and district in play."
But some states, he says, could "get competitive" amid a new wave of black voter registration, forcing McCain to commit resources and time to states Republican candidates can usually ignore.
At the end of the primary battle between Obama and Sen. Hillary Clinton, Democrats worried that Hispanic voters, a majority of whom supported her, wouldn't warm to him.
Don't Miss
Now, polls show Obama winning that vote by a large margin, and even traditionally Republican voters, like Miami's Cuban-American community, appear to be in play. "Will Little Havana Go Blue?" a New York Times Magazine feature asked this month. (The answer: maybe.) Last month, Gallup released a poll that showed Obama leading McCain among Hispanics 59 percent to 29 percent.
McCain and Obama both addressed gatherings of three of the nation's most influential Hispanic groups this summer. Even as McCain tried to reassure conservatives that he would stress security in his immigration policy, the presumptive Republican nominee hit the airwaves with a string of Spanish-language radio ads and a television spot highlighting the service of Latino veterans.
McCain will not address the Unity: Journalists of Color conference in Chicago, Illinois, this week. But he will be speaking again at the annual Urban League gathering next week, midway through a summer full of similar appearances, along with town halls and ad campaigns targeting Hispanic voters.
Does McCain's campaign believe that it can win any significant number of black votes or build on President Bush's 2004 success with Hispanic voters? It won't make any predictions.
"We are working really hard in getting every American's vote," spokeswoman Hessy Fernandez said when asked to venture a guess. "That includes minorities."
President Bush took 44 percent of the Hispanic votes four years ago, helping him win re-election. But only 30 percent of that demographic cast ballots for Republicans in the 2006 congressional elections.
Put part of the blame for that drop on the divisive debate over immigration reform. McCain himself said this year that "the tenor of the debate has harmed our image among Hispanics."
As the Obama camp builds on expected gains among ethnic voters, especially African-Americans, the focus for the McCain campaign seems to be less an effort to make major inroads than a quest to stem massive defections.
The Arizona senator is hoping education appeals and social values concerns can help chip away at an expected landslide for Obama among black voters, just enough to keep traditionally Republican states like North Carolina and Georgia from moving to the Democratic column.
It's a daunting but crucial task: In 2004, a concerted outreach effort to black churches over issues like gay marriage helped President Bush win 16 percent of the black vote in Ohio. Decisive or not, that margin translated into thousands of votes in a state where a razor-thin victory delivered a second term for the incumbent.
Last month, the Obama team sent many of the staffers who helped pull off a surprise victory in the Iowa caucuses to the newly competitive state of Virginia, where, the campaign manager said at a Washington fundraiser, registering black and young voters will deliver a win.
He added that the campaign would be monitoring red states like Mississippi and Louisiana to see whether black voters might put them in play as fall approached and that unregistered black voters in Georgia would put the state back in play. "We think Georgia is very competitive," he said.
Now, prominent black Republicans such as Armstrong Williams and Colin Powell have publicly flirted with the idea of backing Obama's White House bid -- and John McCain, who skipped the NAACP's annual convention in 2007, addressed the organization's gathering this summer.
McCain's effort to reach out to minority voters faces another hurdle: Despite a high-profile outreach by former Republican National Committee Chairman Ken Mehlman, there are no minority Republican candidates with a strong chance of success in any congressional or gubernatorial race. Bobby Jindal, Louisiana's 37-year-old Indian-American governor, is reportedly high on McCain's vice presidential list, but there are no black Republicans in Congress or in the nation's governor's mansions.
In an opinion piece last fall, as the countdown to Iowa entered the home stretch and major candidates skipped events targeting black voters, former Rep. J.C. Watts, one of a handful of black Republicans to serve in Congress, sounded a frustrated note.
"I have often said one of the reasons more blacks don't support Republicans is because they don't trust the GOP establishment," Watts said. "I can, without fear of contradiction, assure you the Conventional Wisdom Caucus and the Status Quo Caucus and the same-old-tired-establishment consultants are running the GOP front-runners' campaigns -- and aiming to get no more than one-twelfth of the black vote."
In an election year where old certainties have been upended, some laws of the campaign universe will inevitably assert themselves, Rothenberg predicted.
"Will black voters matter more than white working-class voters?" he asked. There is no answer, he says, but every voting bloc lays claim to the honor of supplying the winning margin.
E-mail to a friend

CNN's Rebecca Sinderbrand contributed to this report.
All About John McCain • Barack Obama • U.S. Presidential Election