WASHINGTON (CNN) -- When Texas oilman, investor and sometime political player T. Boone Pickens talks, people listen.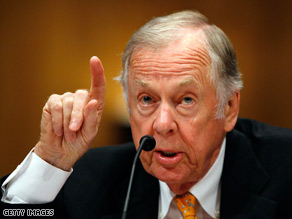 T. Boone Pickens testifies before a Senate committee Tuesday about his energy plan.
Experts credit him with the power to influence oil prices with a word. In May, as prices hit $129 a barrel -- a record at the time -- Andrew Lebow, a broker at MF Global in New York, said one cause was Pickens' remark on television that morning that crude would reach $150 a barrel this year.
"I was watching it, and I was like, 'whoa,' " Lebow said. "It seems that had an impact on the market."
Pickens was in Washington on Tuesday, hoping to have a similar influence on senators as he pushes what he modestly calls the Pickens Plan, a scheme to wean the United States off imported oil.
"Our country is in a deep hole, and it's time to stop digging," he told the Senate Homeland Security and Governmental Affairs Committee.
But the testimony in favor of his energy plan is far from his first effort to influence Washington.
He was among the highest-profile supporters of Swift Boat Veterans and POWs for Truth, giving $1 million in 2004 to the group that savaged Democratic presidential candidate Sen. John Kerry's war record.
Don't Miss
He contributed $2.5 million the same year to the Progress for America voter fund, a group closely linked to President Bush and the Republican National Committee, and tens of thousands of dollars to individual Republican candidates for Congress, according to Federal Election Commission filings.
Three years later, he offered a million dollars to anyone who could disprove claims made by the Swift Boat group, whose name became synonymous with underhanded attacks on political opponents.
Kerry and a group of his allies took Pickens up on the challenge, offering two rebuttals to the Swift Boat claims, but Pickens rejected both. The New York Times reported that Pickens said the terms of his original challenge had been misreported.
Pickens has said he is staying out of politics this cycle, putting his money into his energy plan instead.
The plan calls for investing in domestic renewable resources such as wind and switching from oil to natural gas as a transportation fuel.
Pickens has substantial investments in wind and natural gas. His company Mesa Power recently announced a $2 billion investment as the first step in a multibillion-dollar plan to build the world's largest wind farm in Pampa, Texas, and his company Clean Energy specializes in natural gas as a transportation fuel.
Pickens said that if the United States harnesses the "wind corridor," stretching from the Canadian border to West Texas, energy from wind turbines built there could supply 20 percent or more of the nation's power. He proposes that the project be funded by private investors.

Watch Pickens say time is now to act »
"We can solve this problem with our own resources," he said after his Senate testimony.
He does not oppose more domestic oil drilling; on the contrary, he said he favors drilling in protected areas such as the outer continental shelf offshore and Alaska's Arctic National Wildlife Refuge, known as ANWR.
"I say East and West Coast and ANWR -- get it all! You're drilling and putting into the domestic system to help us," he said.
He also welcomes more nuclear power.
"Fine, do it," he told CNN's Wolf Blitzer. "Anything in America, do it. Get away from foreign oil. I'm ready to put my money where my mouth is."
Pickens, 80, made a fortune in oil and was a key figure in the corporate takeover frenzy of the 1980s before founding BP Capital, an investment firm, and the company that became Clean Energy.
He is worth an estimated $3 billion, according to Forbes magazine, which ranked him as the 117th richest person in the United States in 2007.
He has given more than $600 million to charity, according to his Web site.
E-mail to a friend

All About T. Boone Pickens • Energy Policy • Swift Boat Veterans for Truth