WASHINGTON (CNN) -- Partisan bickering Tuesday threatened to scuttle legislation meant to crack down on oil speculators and other measures designed to reduce oil prices.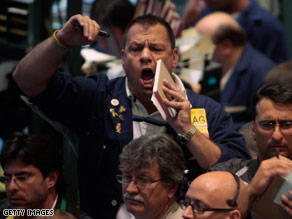 Experts say oil speculation may have added between $40 to $60 a barrel.
The disagreement between Republicans and Democrats could result in Congress leaving for its month-long recess in August without passing any measures to lower gas prices, as motorists face prices of more than $4 a gallon.
The legislation, which was backed by the Democratic leadership, passed a key test vote Tuesday at 94-0, more than the 60 votes needed for debate on the bill to proceed.
But a disagreement over the number of amendments senators can offer during the debate may prevent a final vote.
Republicans want to offer up to 28 amendments on a wide range of energy topics, but the Democratic leadership wants to limit Republicans to two amendments, saying it is the most the Senate can handle before its summer recess in less than two weeks.

See how gas prices have risen across the country »
Democrats say the Republican senators could offer whatever they want in those two amendments, including measures to lift bans on offshore drilling and oil exploration in the Arctic National Wildlife Reserve, measures Democrats adamantly oppose.
Don't Miss
Discussions between the Democratic and Republican leadership broke down Tuesday afternoon. Although talks are still possible, one senior Democratic leadership aide said "I don't see it" when asked whether a deal is possible.
The Republican leadership blasted the Democrats for limiting them to just two amendments and argued that the Senate should be able to debate many more, given the enormity of the problem.
"When the price of gas at the pump was not the number one issue in the country, we spent 15 days on an energy bill. There were 16 roll call votes. There were 49 amendments adopted. The price of gas was $3.06 a gallon," said Senate Minority Leader Mitch McConnell, R-Kentucky.
"Now, the price of gasoline is above $4 a gallon. It is the number one issue in the country. And what Senate Republicans are insisting on is a serious debate about the most important issue in the country. The Senate really should not do any less," he said.
"We call on our Democrat counterparts to join us in that effort, not to play procedural games, not to try to be overly constrictive," said Sen. Jon Kyl of Arizona, the Senate's No. 2 Republican. "Let the Senate be a great body, as it's been in the past. That's the way to solve big problems like this. It would be good for the country."
But Senate Majority Leader Harry Reid, D-Nevada, argued that the Republicans' refusal to take the deal he offered them -- which would include a vote on lifting a ban on offshore drilling -- means "they're not serious about this."
"They said, 'that is the panacea; that is the silver bullet that will solve all of our problems. Let's drill.' And so what we've said: 'Fine. You want to vote on that? You can have a vote on it,' " Reid said.
"They're not serious about this. We are serious about it. And we would hope that they would allow a vote on their proposal. If they do, we have a proposal," he said.
The central portion of the bill on the Senate floor targets speculation in the oil market, which some analysts say has added between $40 to $60 to the price of a barrel of oil.

See how speculation and other factors are rising oil prices »
On Tuesday, a barrel of light, sweet crude closed at $127.96 a barrel, down from the $147-a-barrel record set July 11 and the lowest price since June 5.
The bill would provide more resources and authority to the Commodities Futures Trading Commission to detect and punish speculation, stop speculators from using foreign markets to manipulate the price of oil in the United States, require more transparency in oil markets and limit the trading of market players who do not intend to take delivery of the oil they purchase.
In particular, the bill will give the trading commission greater power to regulate the "swap" market for futures and differentiate between "legitimate" and "illegitimate" hedge trading, which, the Democrats say, has led to increased prices.
Experts have also questioned the extent that speculators -- rather than basic market principles of supply and demand -- have driven up the price of oil.
Though admitting that speculation is having some effect, Pulitzer Prize-winning oil analyst Daniel Yergin pointed to increasing demand, particularly in China and India, as well as limited refining capacity and unrest in oil-producing areas such as the Middle East, Nigeria and Venezuela as reasons why the price of a barrel of oil has gone up.
Yergin did, however, point to a trend in which investors spooked by the faltering U.S. economy have been buying oil, rather than gold, to protect their wealth.
E-mail to a friend

CNN's Ted Barrett, Debra Krajnak and Scott Anderson contributed to this report.
All About Oil Prices • Commodity Futures Trading Commission