By Gloria Borger
CNN Senior Political Analyst

WASHINGTON (CNN) -- It was just back at the end of May when Sen. John McCain started to criticize Sen. Barack Obama for not visiting the Middle East since 2006. At the time, McCain coyly suggested they tour Iraq together.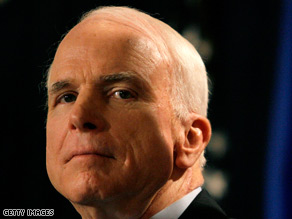 Sen. John McCain should stress his bipartisan credentials on immigration and other issues, a GOP strategist says.
Sensing a good thing, the Republican National Committee started a clock to count the days since Obama had visited the region.
The chiding worked. Obama is now on his grand tour of the Middle East and Europe. The RNC clock has stopped, but timing is still everything.
On the eve of Obama's trip, a German magazine quoted Iraqi Prime Minister Nuri al-Maliki as essentially embracing Obama's 16-month timetable for withdrawal. (Later, an aide to Maliki tried to walk it back, albeit without specifics.)

Watch more on the controversy »
The White House began talking about an "aspirational time horizon" for withdrawal. Obama has now met with Afghan President Hamid Karzai and with Gen. David Petraeus. So far, no mistakes -- and some clear help from abroad.
At home, McCain and Co. are smoldering. They consider the press complicit in a Teflon Obama candidacy.
"McCain is getting covered like he's a speed bump on the road to history," a top McCain adviser griped to me.
Don't Miss
Consequently, they have started running ads about Obama's "flip-flopping" on Iraq -- accusing him of political expediency on his position on troop withdrawals.

Watch McCain criticize Obama's Iraq policy »
"Obama has calculated every utterance he's ever made on Iraq," this adviser says. "And McCain risked everything in his support for the war."
That, in fact, is the key to McCain's appeal. He was for the surge before President Bush was for the surge. But it's an argument he and Obama will never resolve.
As for Afghanistan, McCain will argue it's become a haven for terrorists precisely because we have succeeded in Iraq, and they are fleeing.
"The bad guys are running from Iraq," a senior GOP strategist tells me. "The jihadists are showing up in Afghanistan because they're getting their butts kicked."
Obama, of course, argues Afghanistan has become such a problem because it has been neglected due to Iraq.
Rather than re-litigate these fights, one senior GOP strategist suggests that McCain move to domestic terra firma: his reputation as a maverick willing to buck his own party and cut deals with Democrats.
For instance, McCain risked -- and almost lost -- the nomination because of his support for immigration reform. No doubt about it, McCain has beliefs, and adheres to them. Sometimes, he angers conservatives -- as when he was among a bipartisan group in the Senate standing against filibusters for Supreme Court nominees. Or when he supported stem cell research. And liberals don't like him much for the war or his stand against abortion.
But independent voters -- who most likely will determine the outcome of this election -- like the maverick in McCain.
So here's the question: Why isn't McCain emphasizing his independent credentials more?
One GOP pollster tells me that while McCain "is running ahead of the Republican brand in the polls," he still needs a breakthrough with the approximately 12 percent of the electorate that remains undecided.
So, he suggests, instead of just complaining about Obama's flip-flopping on Iraq, why not start pointing out McCain's bipartisan credentials on immigration, ethics reform, medical research, judges?
"Obama hasn't gotten his hands dirty on any big issue," says this GOP strategist who informally advises the McCain campaign. "McCain has been out there, for better or worse. And he knows how to work with Democrats."
Since it's very likely Democrats will only consolidate their control of the Congress in this election, that's key. Especially for a Republican. Most Americans have decided where they stand on the war. What they want to see is the end of bickering in Washington.
The candidate who convinces the voters he can break the deadlock is the fellow who just might win.
E-mail to a friend

All About John McCain • Republican Party