By Jonathan Mann
In the heat of the summer, smart people slow down and get out of the sun. U.S. politics settles down too. Voting in the presidential election isn't until November, so the serious electioneering tends to wait until autumn.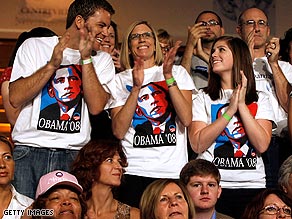 Obama supporters are more excited about voting than McCain's, according to pollsters.
But not this year. People in the U.S., and even around the world, are just a lot more excited this time round.
And that excitement is a factor in the race between Democrat Barack Obama and Republican John McCain.
Most pollsters conclude that Obama has a slight lead over McCain when they calculate how people plan to vote. It's just a few percentage points; too small to decide a race with so much time left to run.
But the pollsters have been measuring the excitement and found that much more one sided.
A Washington Post/ABC News poll last month found that 54 per cent of Obama supporters say they are "very enthusiastic." Only 17 per cent of McCain supporters said they felt that way.
A USA Today/Gallup poll found 67 per cent of Obama's supporters are "more excited than usual about voting" for their candidate. Only 31 per cent of McCain's supporters can say the same thing.
The Pew Research Center even found that 39 per cent of McCain's supporters consider Obama the more likeable candidate, compared to 34 per cent of McCain supporters who feel that way about their own candidate.
Add those numbers to the Democrats' record turnout in the primaries, their record success at fund raising and the energy that just seems to attach itself to Obama.
What you get is being widely called 'the enthusiasm gap.'
Excited, enthusiastic voters are more likely to talk politics with their friends, volunteer their time, contribute their money and, most important, turn out to vote.
Traditionally, Republicans have been more likely to vote than Democrats; older voters have been more likely to vote than younger ones; and white voters more likely to vote than blacks.
Those disparities influence the way pollsters interpret their raw data and the way they calculate their results.
In the most basic count of voter intentions, the difference between the candidates may look small and surmountable.
But this election is different - the entire country can feel it.
And right now, that's an indisputable advantage to Barack Obama.
E-mail to a friend

All About Democratic Party • Barack Obama • John McCain • Republican Party