From Paul Steinhauser and Mark Preston
CNN
WASHINGTON (CNN) -- Barack Obama's campaign announced Thursday that it raised $52 million last month -- more than double the amount rival John McCain brought in, according to campaign officials for the presumed Democratic presidential nominee.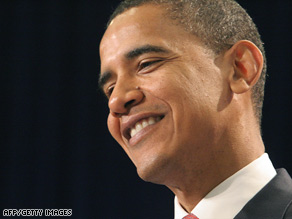 Sen. Barack Obama's campaign has $72 million available to spend, campaign officials say.
As the money comes in for Obama, his campaign is investing in states that have traditionally been Republican strongholds.
Obama's campaign now has $72 million cash on hand, meaning that's how much they currently have to spend, campaign officials said Thursday.
The average donation to Obama in June was $68, the officials said, bringing the monthly total to more than twice the $22 million raised in May.

Watch more on the candidates' campaign cash »
At that time, the Illinois senator was locked in a fierce primary battle with Sen. Hillary Clinton for the Democratic presidential nomination, and Obama was spending more time campaigning for votes and delegates than simply fundraising.
With the conclusion of the primaries in early June and Clinton's suspension of her campaign just days later, Obama's campaign cash numbers had been expected to rise in June.
McCain's campaign raised $22 million in June, its best month yet. The campaign said that combined with the Republican National Committee, it has about $95 million cash on hand.
In a fundraising e-mail to supporters, Obama Campaign Manager David Plouffe acknowledged the deficit, saying "McCain and the RNC together still have a huge cash advantage, and we need your help to close the gap."
But when Obama's funds are combined with the Democratic National Committee's funds, he has $92 million, meaning he's about on par with McCain.
Obama has been making robust buys in a handful of "red states."
Obama has spent $60,000 in Alaska; $3.5 million in Florida; $1.3 million in Georgia; $1 million in Indiana; $100,000 in Montana; $1 million in North Carolina; and $1.8 million in Virginia, according to a new analysis by TNS/Campaign Media Analysis Group, CNN's political television advertising consultant.
"Obama's targeting of these red states is unprecedented," said Evan Tracey, chief operating officer of CMAG. "He is clearly looking to expand the playing field."
In all, McCain has outspent Obama $23 million to $19 million on political television advertising when you look at these figures through the lens of the general election.
McCain, however, has had a head start: CMAG's point of reference for McCain's general election buys is mid-May, and the RNC accounts for $3 million of the McCain total.
Both candidates are also targeting the traditional battlegrounds where Democrats and Republicans take their political war every four years: Michigan, Ohio, Pennsylvania and Missouri.
Election Countdown
Dems' convention: 39 days

GOP convention: 46 days
Election Day 2008: 110 days

Inauguration 2009: 187 days
Here's a state-by-state breakdown of campaign television spending in battleground states:
Michigan: McCain, $2.6 million to Obama's $1.6 million; Ohio: McCain, $3.2 million to Obama's $1.7 million; Pennsylvania: McCain, $4.2 million to Obama's $2.7 million. Additionally, McCain has dropped $1.5 million into Missouri and another $1.9 million on national cable.
Obama is expected to have a greater financial advantage over McCain in the closing months after the presumptive Democratic nominee announced that he would forgo public financing.
Obama will receive no federal money but is free to raise and spend as much as he can. If he continues to raise large amounts, he could have an advantage over McCain when it comes to campaign cash in the crucial months of September and October.
If Obama's red state ad spending is successful over the summer, this could enhance his standing heading into the post-convention period, when McCain will be limited to $85 million.
Conversely, if McCain is able to beat back Obama's efforts in red states over the next two months, the advantage Obama has in purchasing airtime will be diminished.
Money, of course, is not the only factor in the campaign, but it does pay for advertisements on television, radio and the Internet and in print, as well as expensive get-out-the-vote efforts in crucial battleground states.
E-mail to a friend

All About Barack Obama • John McCain • U.S. Presidential Election