From Ted Barrett and Deirdre Walsh
CNN

WASHINGTON (CNN) -- Two bipartisan groups -- one in the House, one in the Senate -- are trying to rekindle stalled energy-legislation by forging a compromise to expand domestic oil and gas drilling.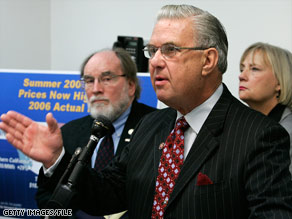 Rep. John Peterson, R-Pennsylvania formed the House bipartisan "energy working group."
The compromise would include new domestic drilling to satisfy Republicans and promote conservation and alternative energy sources to satisfy Democrats, several lawmakers said.
The group in the Senate says its plan probably would allow drilling in new areas of the outer continental shelf, an idea vehemently opposed by Democratic leaders.
Sen. Ben Nelson, D-Nebraska, is bucking his party's leadership by supporting new drilling. He said he and the other senators advocating the deal are "people who are all seriously concerned about the issue who want to find solutions that are most likely to involve compromise."
"Somebody around here's got to do it," said another member of the group, Sen. Johnny Isakson, R-Georgia. "We think the Senate can vote in the majority for energy proposals that will reduce our dependence on foreign oil and reduce the pressure on gas prices."
The Senate group met behind closed doors in the Capitol on Wednesday, hoping to forge legislation that could be introduced after the August recess. Talks were to continue later in the week, according to one senator who attended the meeting.
Both that plan and one from the House are expected to include language to curb excessive oil-market speculation, which many lawmakers believe has artificially caused a spike in oil prices.
Several senators pointed to an energy bill scheduled for Senate debate Thursday as a prime example of why a compromise is needed.
The Democratic-authored bill is meant to rein in speculators. However, the bill probably will stall, with most Republicans expected to withhold support unless they are allowed to offer amendments to increase drilling.
Democrats, who control the chamber, privately say that's not something they are likely to allow. Such a standoff would likely kill the bill, aides and lawmakers said.
In the House, the bipartisan "energy working group" -- formed by Rep. John Peterson, R-Pennsylvania, and Rep. Neil Abercrombie, D-Hawaii -- includes 23 members, roughly split evenly between the two parties.
Peterson said expanding offshore drilling is the most effective thing Congress can do to boost domestic supply. But Democratic leaders have opposed efforts to repeal a 1981 law barring most offshore drilling.
"Locking up offshore is the dumbest thing that we ever did," Peterson said.
Peterson said energy legislation should be the top priority for Congress and said he hopes the group can yield a comprehensive plan next week.
"Leaders are going to have a hard time refusing to address this issue. This is the issue of the year. This is the issue of the decade," Peterson said.
Sen. Saxby Chambliss, R-Georgia, said "everything is on the table" except drilling in Alaska's Arctic National Wildlife Refuge, which he described as a "lightening rod."
The House group is not expected to advocate drilling there, either.
"Conservation and supply are critical components to ultimately seeing the price of gas come down," Chambliss said, noting that Democrats generally favor conservation while Republicans generally favor increasing supply.
Chambliss said his bottom line is finding a compromise that works for his constituents who are hurting from unexpectedly high energy costs.
"There is a lot of pressure being put on back home," he said. "I don't care if you're from a Republican state, a Democratic state, or a mixed state. Everybody is hearing, 'By golly, we need you to do something.' "
E-mail to a friend

All About Gas Prices • Energy Policy • Oil Production and Refining