(CNN) -- Former Minnesota Gov. Jesse Ventura has decided not to run for U.S. Senate in that state, he told CNN's "Larry King Live" Monday night.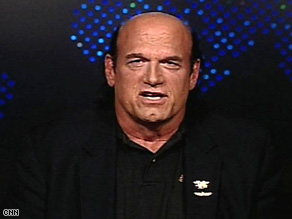 Jesse Ventura says he decided not to run in part because he didn't want to submit his family to media scrutiny.
Ventura, an independent and a former professional wrestler, said he was "close" to running but decided against it in part because he didn't want to submit his relatives to the kind of media scrutiny he says they faced when he was governor.
"Nothing is off-limits today in the world of politics. These are some of the dilemmas that I go through: Do I want to put my family on the firing line again?" said Ventura, who turns 57 Tuesday.
However, he noted he has until 5 p.m. Tuesday -- the deadline to file for the race in Minnesota -- to change his mind.
Among those who have declared for the contest are the incumbent, Republican Sen. Norm Coleman, and Democrat Al Franken, a liberal talk-show host and longtime "Saturday Night Live" writer.
Ventura, openly critical of Coleman and Franken, said he would not endorse either.
As an independent, Ventura won a single term as Minnesota governor in late 1998, beating Coleman and Hubert Humphrey III, a scion of a Minnesota Democratic dynasty.
Once in office, he struggled with a legislature run by the two major parties and did not seek re-election in 2002. He left office with an approval rating near 40 percent, and he told CNN last week that he would need to see "light at the end of the tunnel" before committing to a new campaign.
This month, Minneapolis television station KSTP commissioned a poll that supposed Ventura was running against Coleman and Franken. The results had Coleman leading with 43 percent, followed by Franken at 27 percent and Ventura at 26 percent.
The poll, conducted Friday through Sunday, had a margin of error of plus or minus 4 percent.
Before running for governor, Ventura had been mayor of the Minneapolis suburb of Brooklyn Park. In addition to his wrestling career, he served as a Navy SEAL and appeared in the action films "Predator" and "The Running Man" with Arnold Schwarzenegger, who became governor of California in 2003.
E-mail to a friend

All About Jesse Ventura • Norm Coleman • Al Franken • Minnesota