(CNN) -- Sen. Barack Obama paid tribute Monday to the black leadership in the civil rights battles of the '60s and '70s, but reminded members of the NAACP that those leaders "were not much older than many of you when they made their mark on history."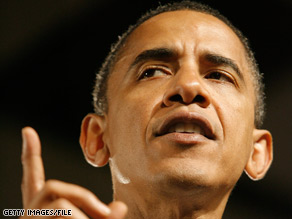 Sen. Barack Obama tells the NAACP: "I will stand up for you" the way earlier generations stood up for him.
"If I have the privilege of serving as your next president, 100 years after the founding of the NAACP, I will stand up for you the same way that earlier generations of Americans stood up for me -- by fighting to ensure that every single one of us has the chance to make it if we try," Obama said.
"That means removing the barriers of prejudice and misunderstanding that still exist in America. It means fighting to eliminate discrimination from every corner of our country. It means changing hearts and changing minds and making sure that every American is treated equally under the law."
The Illinois senator's speech was a historic first: an African-American poised to be the presidential nominee of a major party addressing the nation's oldest civil rights organization.
The presumptive Republican presidential nominee, Arizona Sen. John McCain, will address the NAACP on Wednesday.
As he did in last year's speech to the NAACP, Obama said Monday that "we have more work to do" even after the gains made from the struggles of the older civil rights leaders. Americans must demand that government and business take more responsibility "to break the cycle of poverty and violence gripping this country," he said.
"But we also have to demand more from ourselves," he said. "Now, I know there's some who've been saying I've been too tough talking about responsibility. But here at the NAACP, I'm here to report I'm not going to stop talking about it. Because ... no matter how many 10-point plans we propose, or how many government programs we launch -- none of it will make any difference if we don't seize more responsibility in our own lives."
Taking responsibility, he said, means turning off televisions and putting away video games and providing direct guidance to children.
"Teaching our daughters to never allow images on television to tell them what they are worth; teaching our sons to treat women with respect, and to realize responsibility does not end at conception; that what makes them a man is not the ability to have a child but to raise one," he said. "That's a message we need to send."
Obama's emphasis on personal responsibility has drawn some criticism. Most recently, the Rev. Jesse Jackson, a black leader who has long held a place on the American political stage, criticized Obama in what he thought was a private comment last week.
After an interview on Fox News, Jackson was talking to a fellow interviewee when an open microphone picked up Jackson whispering, "See, Barack's been talking down to black people. ... I want to cut his nuts off."
He was referring to Obama chastising black fathers for not doing enough for their children during a Father's Day speech and making "faith-based initiatives" part of his campaign platform.
The theme of black fathers needing to take responsibility in the raising of their children is one Obama has touched on frequently. Obama himself grew up in a single-parent home after his father left.

Watch Soledad O'Brien report on black absentee fathers »
Jackson, who apologized for the remarks, explained his "anguish" over Obama's comments by pointing to the high levels of unemployment, home foreclosures and violence in the black community. "So we have some real serious issues, not just moral issues," that require real investment that "faith-based initiatives" cannot provide, he said.

Watch Jackson explain himself »
Obama addressed those issues in his Cincinnati, Ohio, speech Monday night, noting that leaders like the Rev. Martin Luther King Jr. understood that civil rights meant more than erasing prejudice and bigotry, that social justice could not come without economic justice.

Watch whether Jackson's apology was enough »
"What Dr. King and Roy Wilkins understood is that it doesn't matter if you have the right to sit at the front of the bus if you can't afford the bus fare," he said. "It doesn't matter if you have the right to sit at the lunch counter if you can't afford the lunch.
"What they understood is that so long as Americans are denied the decent wages and good benefits and fair treatment that they deserve, the dream for which so many gave so much will remain out of reach; that to live up to our founding promise of equality for all, we have to make sure that opportunity is open to all."
The "true genius" of the United States, he said, is "not that we are perfect, but that we can make ourselves more perfect; that brick by brick, calloused hand by calloused hand, people who love this country can change it."
"And that's our most enduring responsibility -- the responsibility to future generations," he said. "We have to change this country for them. ... We have to leave them a planet that's cleaner, a nation that's safer, a world that's more equal and more just."
The National Association for the Advancement of Colored People may already be embracing that mind-set, which focuses on economic and social justice issues rather than the civil rights struggles of the past. Jack Johnson, a political columnist and a news correspondent for Black Entertainment Television, pointed to that shift in noting that Benjamin Todd Jealous, a 35-year-old Oxford-educated activist, will become the association's president on September 1.

Watch how the NAACP is changing »
"I think they want to be focused on issues like the economy, issues like jail and jobs," Johnson said.
E-mail to a friend

All About Barack Obama • NAACP • African-American Issues