From Emily Sherman and Brianna Keilar
CNN
(CNN) -- Cindy McCain is trying to show a more personal side of herself to voters, one which most people wouldn't expect -- a life-long passion for car racing.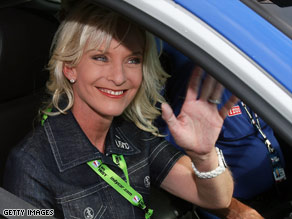 Cindy McCain says she's been a fan of racing since she was a little girl.
McCain, wife of presumptive Republican presidential nominee John McCain, is a multimillionaire and heir to the Anheuser-Busch beer fortune. She may not seem like the typical racing fan, but she's loved the sport since she was a little girl.
"I was the only child of a Western cowboy," Cindy McCain said during the Indy Car race in Nashville, Tennessee.
"To be honest with you, he was a very successful businessman but was a true cowboy and loved to do things. ... And cars were his passion and, of course, that wore off on me," she said as she remembered her father.
While riding shotgun inside a pace car, McCain recalled the days when women weren't allowed to spend time on the track.

Watch Cindy McCain take a spin around the track »
"The first years I started going to Indianapolis, women were not allowed in pits or in gasoline alley," she said. "So I had to hang on the fence. I didn't know any better in those days because that's the way it had always been."
And her favorite race care driver?
"I'm a huge fan of Danica Patrick," she said. "She's a woman, and she's excelled ... in a very difficult sport for a woman to compete, and she's done well, she's held her head high. She's just a great inspiration to women."
The potential first lady's trip to Nashville wasn't just to show her love of the sport; it's part of a greater effort by the McCain campaign to personalize her and reach out to women voters.
John McCain held a women-only town hall event in Hudson, Wisconsin, last week, where he touted the progress women have made over the years, calling attention to the first female speaker of the House and Hillary Clinton's run for president.
At the same event, Cindy McCain joked about her secret to shedding the pounds.
"Do you want to know how to lose 30 pounds? Help your husband run for president. I am standing here in a pair of pants that are two sizes too big," she told the all-women audience.
Back at the track, Cindy McCain opened up about her family life and what it's like having a son overseas.
"When I look at a group of women and know so many of them have their children that are either serving or about to go overseas to serve, I know how it feels," she said.
McCain, who has long been involved with charity work and relief organizations, said if her husband gets elected in November, she plans to continue her humanitarian work and encourage others to follow in her path.
"Government is not the answer to everything," McCain said. "Americans are so good at giving themselves and giving their time. I just want to keep encouraging people to keep doing that."
McCain has traveled to Vietnam as part of Operation Smile, a nonprofit group that mends children's facial deformities, and she plans to spend four days in the war-torn African nation of Rwanda this week. The trip, organized by the nonpartisan ONE campaign, will visit USAID health clinics, schools and an orphanage.
E-mail to a friend

All About Cindy McCain • Indy Racing League • Danica Patrick