(CNN) -- CNN journalists who worked -- and sometimes clashed -- with Tony Snow recalled his warm personality, strength of conviction and intellect Saturday.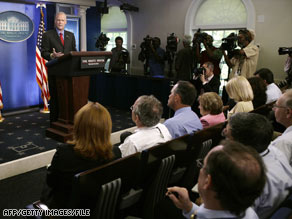 Members of the press corps are expressing admiration for late White House spokesman Tony Snow.
The former White House spokesman died Saturday of cancer at age 53.
"You know, you might not agree with his politics, but the one thing that you can't argue with is that Tony Snow was really a tremendously decent human being," CNN "American Morning" host John Roberts said.
"It's a really, really sad occasion today."

Watch a retrospective of Snow »
Snow was a frequent guest on CNN's "Late Edition" in the early 1990s, when it was hosted by Frank Sesno, who is now a special correspondent.
"In that unscripted environment, he was so quick, so funny, so tough in everything that he said, and informed," Sesno recalled. "... Tony brought this remarkable mix of brains and wit and edge and humanity to what he did."
And Snow was true to his conservative convictions, Sesno added.
Don't Miss
"He also was a combative guy," Sesno said. "He loved that too. He loved the mental hand-to-hand combat that goes with Washington politics. And he had the courage of his convictions."
In April, CNN announced that Snow was joining its team as a conservative correspondent.
Jon Klein, president of CNN U.S., said Snow "was a highly respected colleague and a friend to many of us. The intelligence and warmth he brought to every conversation will be missed, and the example he set of professionalism combined with humanity will be long remembered.
"He loved this country and its people and was looking forward to getting out into America to listen to their stories and share them with the rest of us," Klein said. "It is all of our loss that he never got the chance to do so. We regret that he was not a part of our CNN family longer, and our deepest condolences go out to his family." iReport.com: Share your memories of Snow
Current CNN White House correspondent Ed Henry noted that Snow played a dual role.
"The White House felt he would ... be a strong advocate for the president, and he was that and then some," Henry said. "But he took on another hat, another role, when he got sick again with cancer, and that was an inspiration."

Watch White House staffers' fond send-off for Snow »
Chief National Correspondent John King called Snow "a happy warrior."
"He was a partisan, of course, and remember, he did not have to come to work for this president," King said. "... This was somebody who gave up quite a bit of income to come and do public service. And whether you're a Democrat or a Republican, you have to admire him for that."
"Late Edition" host Wolf Blitzer recalled Snow's passion for his work. During the 1996 political conventions, Snow continued writing his newspaper columns even while working as podium reporter for Fox News, Blitzer said.
"He was a busy guy. He was working hard, but you could see, like a lot of us, he really loved what he was doing," Blitzer said.
"He was engrossed, he was passionate, he was warm, intelligent, and he worked hard. But you know what? It was easy for him because he loved, he literally loved, what he was doing, and it was very visible as you could just see him smiling almost all the time."
Larry King called Snow "a remarkable colleague and a good friend.
"He was extraordinarily likable, not only for his sense of humor and wit but for his gift of giving others the space to express opinions, even if they countered his own," King said. "Devoted to his country and family, Tony was a gentleman in the truest sense of the word, and he will be deeply missed."
E-mail to a friend