By Jonathan Mann
(CNN) -- Every casino keeps a lot of money on hand, but few gamblers are confident enough to try to win it all.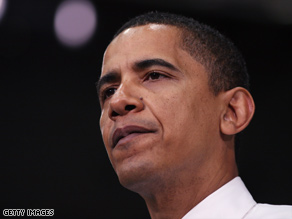 Barack Obama's presidential campaign is planning to be active in all 50 states in the coming months.
Barack Obama is doing just that -- betting big as he campaigns across the US.
Officially, the plan is called the "50-State Strategy," and it gives you an indication of just how optimistic the Democrats are feeling.
The strategy gets its name from the fact that although the U.S. is made up of 50 states, no presidential candidate campaigns in them all.
Most states vote so predictably for the same party in most presidential elections that it doesn't make sense for either candidate to spend any of their limited time or money trying to affect the outcome.
You'd rarely see a Republican candidate for the White House working to win over largely liberal New York; or a Democrat trying to rally conservative Montana.
The battle is really fought and won in the "swing" states that do move from one party to another - that's fewer than 20 states overall. The rest of the country largely watches the election unfold from a distance.
This year, though, Obama's campaign says it will be in all 50 states.
Obama's people believe that they have so much campaign money and so many volunteers that they can afford it, they can organize it and they can staff it.
The goal is to force John McCain to defend his turf. If Obama really threatens to encroach on traditional Republican states, McCain would have to protect them, forcing him to stretch a campaign budget and staff that are dramatically smaller than Obama's.
Right now, McCain doesn't seem to have much to compare with Obama's 50-State Strategy. Call his strategy a state of flux.
McCain is behind in the polls, still lacking a central theme for his candidacy and shuffling his senior campaign advisors to try to assemble a stronger team.
The election is still four months away. The Arizona senator is widely respected nationwide, his personal appeal crosses party lines and he is a tireless campaigner.
So Obama's confidence may be misplaced and his effort in unwinable states, wasted.
It's a gamble only a pretty confident player would make.
Right now, Obama feels like he's holding all the chips.
E-mail to a friend

All About Hillary Clinton • Democratic Party • Barack Obama • John McCain • Republican Party