From Diana Magnay
CNN
BERLIN, Germany (CNN) -- Presumptive U.S. Democratic presidential nominee Barack Obama hasn't even set foot on European soil in the campaign. Yet rumors about what he might do in Germany have ruffled feathers in the German government.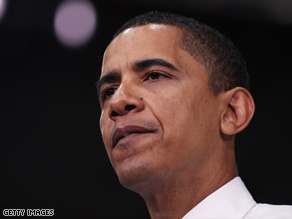 Sen. Barack Obama's campaign announced last month that he plans to visit Germany.
Obama's campaign announced last month that he plans to visit Germany as part of a trip to Europe and the Middle East this summer.
Chancellor Angela Merkel has voiced great skepticism about whether it's appropriate for Obama to speak at the Brandenburg Gate if he travels to Berlin.
Merkel spokesman Thomas Steg told reporters Wednesday that it's inappropriate for candidates to campaign in Germany -- let alone at a historical landmark so full of symbolism.
Former President Ronald Reagan was at the Brandenburg Gate in 1987 when he made famous remarks to Soviet leader Mikhail Gorbachev.
Feet away from the Berlin Wall which divided the city, Reagan said, "Mr. Gorbachev, tear down this wall!"
Obama, however, is not the president, and some agree with Merkel that a speech at the Brandenburg Gate would not be appropriate.
Don't Miss
"I think he should sense right now at this very moment that the Brandenburg Gate is not the place to go," said Jan Techau of the German Council on Foreign Relations. "He should opt for another place. People have suggested the [town hall] where Kennedy spoke, which is less of a symbolic place, ironically,"
In 1963, U.S. President John F. Kennedy spoke not at the gate but at the town hall in then-West Berlin, declaring, "Ich bin ein Berliner." It was a single phrase that expressed, perhaps more than any other, the unity of the West in the Cold War era.
"Barack Obama, I would suspect, is going to go over there and one of his main talking points is re-establishing ties with our allies and really trying to put America back in a place that many people think it has lost ... on the world stage," said CNN Political Editor Mark Preston.
Germany's ties with the present U.S. administration have warmed up since their fallout over the Iraq war, which Germany opposed.
The German news magazine Der Spiegel reported Tuesday, quoting unnamed sources, that Obama planned to speak at Brandenburg Gate and that a July 24 date had been set. The possibility of a visit to the landmark has been a major issue in German media this week and prompted Merkel's spokesman to address it Wednesday.
Merkel says either candidate would be welcome in Germany. But in the end, it isn't even her decision about who is allowed to speak at the Brandenburg Gate. For security reasons it's up to the mayor, and he has already said he'd be delighted for Obama to speak in Berlin.
E-mail to a friend

All About Brandenburg Gate • Angela Merkel • Barack Obama