From Dana Bash
CNN
(CNN) -- Phil Gramm, a top adviser to Sen. John McCain, on Thursday stood by his comment that the country is in a "mental recession," and said he was trying to say the nation's leaders, not its people, were "whiners."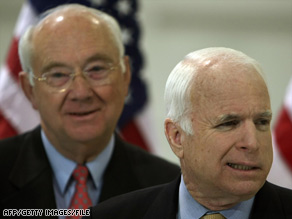 Phil Gramm, left, is an economic adviser for Sen. John McCain.
Democrats blasted Gramm, who advises presumed Republican nominee McCain on economic matters, for saying Americans who have named the economy as a top concern this campaign cycle were "a nation of whiners."
McCain forcefully repudiated the remarks while campaigning in Michigan, which has the highest unemployment rate in the nation.
The comments came in a Washington Times interview published Thursday.
"We have sort of become a nation of whiners. You just hear this constant whining, complaining about a loss of competitiveness, America in decline," said the former Texas senator. "You've heard of mental depression; this is a mental recession."

Watch comments made by former Sen. Phil Gramm »
Gramm also said the media was responsible for fostering unnecessary anxiety over the state of the economy. "Misery sells newspapers," he said. "Thank God the economy is not as bad as you read in the newspaper every day."
A McCain campaign source said that not only did Gramm not speak to the Washington Times on McCain's behalf, but the campaign also did not know he was doing it -- unlike Gramm's meeting Thursday with the Wall Street Journal, in which McCain staff were present.
Gramm called CNN to clarify his remarks before boarding a flight Thursday.
He said he was not speaking for the campaign when he made the remarks.
"I didn't claim to be representing anyone except myself," he said.
Gramm said he was not trying to insult the country's people.
"The whiners are the leaders. Hell, the American people are victims, but it didn't quite come out that way in the story," Gramm said.
Don't Miss
These national and congressional leaders "blame speculators and oil companies for our problems, instead of presenting concrete programs for using energy more efficiently, or leaders who don't think we can compete with Mexico."
"What we need is more leadership and less whining," he added.
But he stood by his assessment that the country was in a "mental recession."
"I said we are in a mental recession. We keep getting the steady drumbeat of bad news ... it's become a mental recession," said Gramm. "We don't have measured negative growth. That's a fact, that's not a commentary."
Asked whether he understood beforehand the kind of political impact his statements might have, he said the outraged reactions his remarks had drawn were just part of the "game." Anytime anyone says something, said Gramm, it can be "taken out of context."
"I don't agree with Sen. Gramm," McCain said. "I believe that the person here in Michigan that just lost his job isn't suffering a mental recession. I believe the mother here in Michigan and around America who is trying to get enough money to educate their children isn't whining."

Watch McCain back away from Gramm comments »
"Phil Gramm does not speak for me," he said. "I speak for me."
Asked if there was any chance Gramm would be treasury secretary or handle economic policy under a McCain administration, McCain quickly turned to humor.
"I think Sen. Gramm would be in serious consideration for ambassador to Belarus, although I'm not sure the citizens of Minsk would welcome that," he said.
Gramm's comments were seized upon by Democratic presidential candidate Sen. Barack Obama, who criticized McCain and Gramm earlier in the day in Virginia, saying: "America already has one Dr. Phil. We don't need another one when it comes to the economy."

Watch Obama say one Dr. Phil is enough »
Obama said his administration would deliver more than "psychological" relief.
The Democratic National Committee accused McCain of not understanding voters' economic struggles.
"Sen. McCain said the economic problems facing Americans are psychological -- now his top economic adviser and BFF, Phil Gramm said Americans facing tough economic are 'whiners,' " said Democratic National Committee spokesman Brad Woodhouse in a statement sent to reporters.
Democrats have been looking to portray McCain as out of touch on the economy, as he and Obama battle over working-class voters, who have named the economy as their biggest worry this year.
McCain's campaign earlier moved to distance itself from Gramm's comments.
"Phil Gramm's comments are not representative of John McCain's views. John McCain travels the country every day talking to Americans who are hurting, feeling pain at the pump and worrying about how they'll pay their mortgage," a McCain official said.
"That's why he has a realistic plan to deliver immediate relief at the gas pump, grow our economy and put Americans back to work."
E-mail to a friend

CNN's Alex Mooney, Alexander Marquardt and Peter Hamby contributed to this report.
All About John McCain • U.S. Presidential Election