From Joe Johns
CNN
(CNN) -- Sens. Barack Obama and Hillary Clinton teamed up again Wednesday, but not all Clinton's supporters are jumping on the Obama bandwagon despite her calls for unity.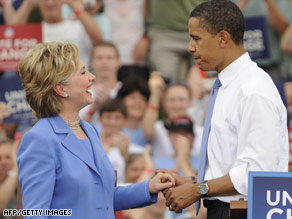 Once fierce rivals, Sens. Hillary Clinton and Barack Obama stand together in June in Unity, New Hampshire.
Two fundraisers on Wednesday in New York and a third on Thursday, make it five times the two have appeared together since Clinton ended her quest for the Democratic presidential nomination last month.
Two of the events are aimed at raising money for Obama's campaign, and one is to help Clinton retire the debt from her failed run.
The joint appearances have been choreographed carefully to produce pictures of the former rivals standing side by side in an effort to help move beyond the bitterness of the hard-fought Democratic primary.
But for some of Clinton's top supporters, it's going to take more than just encouragement from the former first lady to get them to open their wallets and hearts to Obama.
Some of Clinton's fundraisers are pressuring the Obama campaign to support her policy positions -- and help pay off her campaign debt.

Watch why some Clinton fans aren't embracing Obama »
Clinton was more than $22 million in the red when she bowed out last month, and half of it was personal loans she made to the campaign to keep it running.
Don't Miss
With that debt yet to be paid off, some of Clinton's supporters are balking at the idea of forking over donations for Obama -- especially if he does not choose her to be his running mate.
Businesswoman Lynn Forester de Rothschild launched a Web site bringing Clinton supporters together to put the pressure on Obama.
"We are being asked to embrace party unity without the fair representation of Hillary Clinton and her 18 million voters," she says on her Web site. "Party unity requires bilateral action. We ask Barack Obama and the [Democratic National Committee] to respond."
De Rothschild is one of the so-called "Hillraisers" -- supporters who raised at least $100,000 for Clinton. She's yet to fork over any cash for Obama, and she doesn't know if she will.
"I certainly know there are lots of people who are withholding their money," she said.
"This is a hard decision for me personally because frankly I don't like him. I feel like he is an elitist. I feel like he has not given me reason to trust him."
That sentiment may be sending some Clinton fans into Sen. John McCain's court.
According to a CNN/Opinion Research Corp. poll released last week, Clinton supporters who say they plan to defect to McCain's camp is down from a month ago, but those who say they plan to vote for Obama is also down, and a growing number say they may not vote at all.
Rep. Debbie Wasserman Schultz, D-Florida, spent two days in New York this week with disaffected Clinton supporters.
"It's not unexpected that they wouldn't just automatically shift over to Obama, because they're not the typical Democratic supporters that just automatically shift over," she said. "They need to be wooed. They need to be won over."
The Obama campaign said it expects the "Hillraisers" to come around, but in the meantime, the presumptive GOP nominee is appealing to Clinton fans and trying to make inroads where he can.
E-mail to a friend

CNN's Alexander Mooney and Chris Welch contributed to this report.
All About Barack Obama • Hillary Clinton • John McCain