By Jessica Yellin
CNN Correspondent

(CNN) -- It's being billed as the new and improved Sen. John McCain -- a sure-footed candidate working to reconnect with voters and recapture the magic that made him a political maverick. But will it work?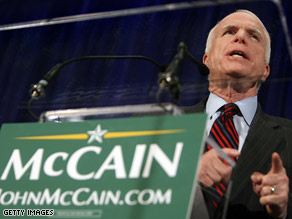 Sen. John McCain's speech in June was criticized within GOP circles for its poor visuals.
The difference may be subtle, but the Republican presidential candidate's campaign team is hailing a few improvements. It recently appointed Steve Schmidt, a Bush veteran, to run McCain's daily operations.
Then the campaign named Rudy Giuliani's former campaign manager, Michael DuHaime, as political director.
These changes come in the wake of several hurdles the candidate has faced.
GOP worries spilled into the open in June when McCain's prime-time speech was criticized for its poor visuals and negative message, compared with Sen. Barack Obama's address before a raucous crowd in St. Paul, Minnesota, when he proclaimed that he had secured the Democratic nomination for president.
A green backdrop for McCain was especially targeted for derision.
"Almost every Republican I've talked to is alarmed that the McCain campaign doesn't seem up to the task of electing John McCain," conservative New York Times columnist William Kristol later wrote.
Don't Miss
But the campaign promised never to use the green background again -- instead opting for a more camera-friendly blue. Watch more on McCain's mojo change

Then there were awkward moments in speeches when McCain had trouble reading the TelePrompTer.
They've been canned in favor of town hall question and answer sessions, which produce can't-make-that-up moments with voters.
But in one town hall, a woman lashed out on taxes, telling McCain: "You tax us when we eat! You tax us when we sleep! You tax us every which way! Get off of my back," the woman said.
The McCain team is touting these cosmetic changes and management improvements -- like better coordination with organizers at the local level -- as signs of a newly revitalized campaign.
But a new backdrop doesn't necessarily give the candidate new mojo.
One political observer sees deeper problems.
"He's started to compromise his own brand ... in this year when the Republican brand is so damaged, having a nominee like McCain with a maverick reputation is absolutely crucial. And to the extent that he loses that reputation, is seen as a cookie-cutter Republican, just a George Bush Republican, then his campaign is in trouble and his party's in trouble," said Stu Rothenberg of The Rothenberg Report.
McCain was the anti-Republican, the guy who broke with party orthodoxy -- opposing President Bush's tax cuts, opposing offshore drilling and bucking the party line on immigration reform.
Now he's mouthing standard Republican talking points on all of these issues -- agreeing on the president's tax cuts, supporting offshore drilling and touting his border-focused immigration plan.
Obama is branding him the next George Bush.
"I often say that John McCain is running to serve out George Bush's third term, but that's not being fair to George Bush," Obama has said.
But if there's one thing McCain excels at, it's coming back from behind.
On Monday, he showed glimmers of that iconoclast while criticizing the Bush administration for excessive spending.
"This Congress and this administration have failed to meet their responsibilities to manage the government. Government has grown by 60 percent in the last 8 years. That is simply inexcusable," McCain said.
Sometimes it's all in the delivery. For John McCain, practice time is running out.
E-mail to a friend

All About John McCain • Barack Obama