From Charley Keyes
CNN State Department Producer
WASHINGTON (CNN) -- The State Department inspector general Thursday blasted the security of U.S. passport files, saying the repeated access of over 100 celebrities' files had gone undetected and unpunished.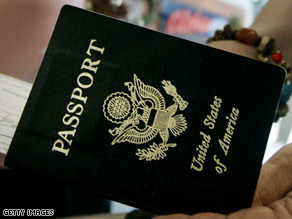 The State Department inspector general blasted the passport system's lax security.
Harold Geisel, the department's acting inspector general, launched the investigation after the department admitted in March that the files of three presidential candidates -- Sens. Hillary Clinton, John McCain and Barack Obama -- had been breached. Secretary of State Condoleezza Rice called them to apologize.
On Thursday, in a heavily redacted report, the inspector general revealed that a test showed the files of at least 127 famous persons had been accessed repeatedly, although it was unclear whether the access was authorized.
Geisel tested the passport system's security by reviewing the files of 150 famous individuals consisting of musicians, athletes and movie, television and media personalities. The inspector general developed the list by reviewing the most searched names on Google in 2006 and 2007, Forbes magazine's top 100 celebrities and 400 richest individuals and Sports Illustrated's 50 highest paid athletes.
The report suggested an overhaul in how the department protects the information and follows up on any breaches.
Don't Miss
"OIG [Office of the Attorney General] found many control weaknesses -- including a general lack of policies, procedures, guidance, and training -- relating to the prevention and detection of unauthorized access to passport and applicant information and the subsequent response and disciplinary processes when a potential unauthorized access is substantiated," the report said.
"In some cases, department officials stated that the lack of resources contributed to the lack of controls and to the department's ability to assess vulnerabilities and risk," Geisel wrote.
The inspector general's report suggests the State Department follow privacy procedures already used by the Social Security Administration, the Internal Revenue Service and other agencies.
Sen. Joe Biden, D-Delaware, called the report "deeply disturbing." Biden is the chairman of the Senate Foreign Affairs Committee, which oversees the State Department's operations and funding.
"The inspector general found that there were 'many weaknesses' in the State Department's passport records system, including a general lack of policies, training and procedures to prevent, detect or punish the kind of illegal passport file breaches that occurred earlier this year. This is unacceptable," he said in a written statement.
"The report makes it clear that the private information of over 100 million Americans is vulnerable to unauthorized access. I urge Secretary [of State] Rice to act promptly on the inspector general's recommendations and correct these system-wide failures."
E-mail to a friend

All About U.S. Department of State • Computer Security