BOGOTA, Colombia (CNN) -- Sen. John McCain discussed free trade, illegal drugs and better relations Tuesday night with Colombian President Alvaro Uribe.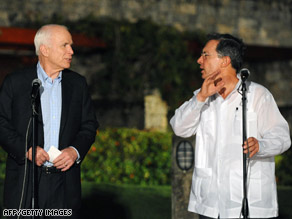 Sen. John McCain and Colombian President Alvaro Uribe hold a joint press conference in Cartagena.
The presumptive Republican presidential nominee met with Uribe after arriving in Colombia on the first leg of a three-day trip to Latin America.
The trip highlights policy differences on trade between him and his Democratic rival, Sen. Barack Obama.
"Free trade is an important issue, not only for Colombia, but, I believe, for the economy of the world and ... for the U.S. economy," McCain said Tuesday at a news conference with Uribe.
McCain and Obama have different views on the Colombian Free Trade Agreement, which would eliminate some tariffs and other barriers to commerce with the goal of expanding trade between the United States and Colombia.
Democrats in Congress have blocked the deal, citing the intimidation and killing of Colombian labor activists by right-wing paramilitary troops.
McCain supports the agreement. Obama opposes it, saying in April that President Bush was "absolutely wrong" to support the deal on the grounds that the Colombian government is suspected of "potentially having supported violence against unions, against labor, against opposition."

Watch what McCain's doing in Colombia »
A CNN/Opinion Research Corp. poll released Tuesday found 51 percent of the Americans questioned view foreign trade as a threat to the economy. It was the first time in a CNN poll that a majority of respondents reported holding negative views on free trade.
McCain acknowledged "human rights abuses by the paramilitaries" and said "these people need to be brought to justice, no matter who they are or where they are."
"But I balance that against Uribe and his administration's rescue of Colombia from a failed state status," he said. "You got to stand on principle. I believe in the principle of free trade."
McCain argued that protectionism could make a bad economy worse. He pointed to the example of Herbert Hoover, the Depression-era president who signed protectionist legislation into law.
"We went from a recession into one of the great depressions of our history," he said. "I've got to convince people that I have a plan to give them the kind of education and training they need."
In response to a question about President Bush, he compared his stance on trade to that of a different president.
"I'm also closely aligned with President Clinton. President Clinton is the one who signed the free trade agreement with North America," McCain told reporters.
In an interview with CNN Espanol on Wednesday, McCain also expressed the importance of cracking down on the flow of drugs from Colombia and Mexico, where he will go following his visit to Colombia.
McCain said "more needs to be done" when it comes to educating people about the dangers of drugs. He said progress has been made in Colombia, but there's still "a long way to go."
A top aide to Obama said the McCain trip is actually an effort to win Latino votes at home.
"He's not doing it because he thinks the region is important, he's doing it because he wants ... to try to send a message to Latinos in the United States -- to say, 'Focus on these things,' rather than on things that he doesn't have an answer for in the Latino community," said Dan Restrepo, Obama's senior adviser on Latin America.
McCain said Wednesday he thinks his support will be good among Hispanic voters.
"I come from a Western state. I come from a border state. I received 70 percent of the Hispanic vote in my last re-election. I understand the issues and the challenges and am confident of significant support," he said.
McCain launched a Web-only advertisement touting the Colombia Free Trade agreement Tuesday, in English with Spanish subtitles. The campaign said it was not buying any television advertising time for the spot.
"We must encourage more trade agreements to create more jobs on both sides of the border; that's why I'm behind the Colombian Free Trade Agreement," McCain says in the advertisement.
Colombia's president, Uribe, is in the midst of a corruption scandal over the allegation that a lawmaker was bribed to vote for a change to the constitution that allowed him to run for a new term in 2006. He has proposed a referendum on whether there should be a fresh election.
McCain's trip to Mexico could highlight another difference between him and Obama on international trade.
McCain supports the North American Free Trade Agreement, which took effect in 1994 and seeks to reduce barriers to trade between Mexico, Canada and the United States. Obama has vowed to amend the North America Free Trade Agreement if elected president.
The trip to Mexico may also remind voters of McCain's pivotal role in efforts to overhaul U.S. immigration policy -- efforts that put him at odds with many Republican voters. The reform efforts failed.
McCain said he would press Mexico to do its part to stem the flow of illegal immigrants into the United States.
"It would be so much easier if we had the ability to trust our neighbors to the south as much as we trust our neighbors to the north, in terms of border security," he said.
The Latin America trip comes on the heels of a visit by McCain to Canada last month.
E-mail to a friend

All About John McCain • Free Trade • Colombia