From Jim Acosta
CNN
(CNN) -- Colorado, with its large population of independent voters, could become the ultimate battleground state in the general election.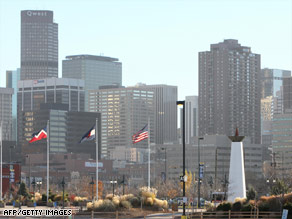 Denver, Colorado, will host the Democratic National Convention in late August.
The state, which will host the Democratic National Convention in August, is home to deep political divisions. Republicans, Democrats and independents each make up about a third of Colorado's voters.
But in the last four years, those voters have handed key state jobs to Democrats, including Gov. Bill Ritter.
"There's been, I think, a trend to elect leaders who are pragmatic, who are centrists," Ritter told CNN.
He said he believes his state's voters have grown weary of the current administration.
"I think people are really disappointed about what happened respecting the Iraq war. How we got into it; in some respects, how we were misled in getting into it," Ritter said.
"And I think there will be some backlash in this election as a part of that," he said.
Colorado political analyst Eric Sondermann says there is war fatigue in his state, just as there is in other areas.
But he points out that Bill Clinton was the last Democrat to win Colorado, and he did so with the help of third-party candidate Ross Perot, who took votes from the Republicans.

Watch how independents could affect the vote in Colorado »
"It is a unique kind of Democrat who is winning here. The question is can [Sen. Barack] Obama inherit or adapt to that kind of magic," Sondermann said.
Libertarian candidate Bob Barr and independent candidate Ralph Nader have entered the presidential race this year.
While their effect will be minimal if either of the leading candidates wins by a large margin, they could play a more important role if the race between Obama and Sen. John McCain is close, Sondermann said.
"At this point, I don't perceive that either will have any traction," Sondermann said, but, pointing out that both have some appeal along the margins, he said their effect on the race is "to be determined."
Former two-term Republican Gov. Bill Owens says he thinks the independents will fall in McCain's column.
"Independents voted for President Bush both times, and that's why he won this state," Owens said. "I've actually preferred to run against Barack Obama. I think he's charismatic. I think he's a very nice guy. But I think when you bring less experience to the presidential election than Jimmy Carter had -- that's going be a challenge."
Obama has already done well in Colorado. In the state's Democratic primary on February 5, he beat Hillary Clinton by more than a 2-to-1 ratio. Mitt Romney won the Republican primary, topping McCain 60 to 19 percent.
In recent years, the Mountain West, which follows the spine of the Rockies from Canada to Mexico, has proved to be fertile ground for the Democrats. In 2000, there wasn't a single Democratic governor in the region. Today, there are five.
But Colorado has a tendency to vote Republican in presidential elections. The GOP presidential candidate has carried the state in 12 of the last 14 presidential races, dating back to 1952. The only exceptions came in 1964 and 1992, when the state supported Lyndon Johnson and Bill Clinton, respectively.
Denver, Adams and Boulder counties in central Colorado are the most Democratic areas of the state. The eastern and western borders are heavily Republican.
The Democrats will hold their national convention in Denver in late August.
E-mail to a friend

CNN's Kristi Keck contributed to this report.
All About Colorado • Barack Obama • John McCain