(CNN) -- Sen. John McCain's campaign on Monday called retired Gen. Wesley Clark's remarks that McCain lacks command experience "the lowest form of politics."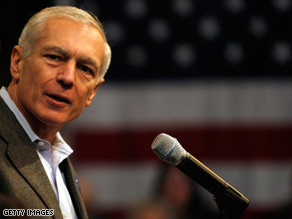 Retired Gen. Wesley Clark, who ran for president in 2004, questions Sen. John McCain's executive experience.
Clark, a military adviser for Sen. Barack Obama, questioned Sunday whether McCain's military experience qualified him to be commander in chief.
"I think it's kind of sad," McCain campaign manager Rick Davis said Monday on CNN's "American Morning."
"I think all the promise that Barack Obama made about trying to change the political dynamic and run a different kind of campaign is evidenced by the fact that he's completely changed his political strikes and become sort of a partisan hack."
Davis added, "sending Wesley Clark out as a surrogate for your campaign and attacking John McCain and his war record and his military experience and his service is, I think, just the lowest form of politics."

Watch what McCain says about Clark's comments »
Obama's campaign issued a response Monday: "As he's said many times before, Sen. Obama honors and respects Sen. McCain's service, and of course he rejects yesterday's statement by Gen. Clark."
In a speech about patriotism Monday, Obama did not directly address Clark's comments.
But after calling attention to McCain's service, Obama said in a speech in Independence, Missouri, "no one should ever devalue that service, especially for the sake of a political campaign, and that goes for supporters of both sides.
"We must always express our profound gratitude for the service of our men and women in uniform. Period," Obama said.
McCain spent more than five years as a prisoner of war after being shot down during the Vietnam War.
Clark said Sunday that he was referring to McCain's experience, or lack thereof, in setting national security policies and understanding the risk involved in such matters.
"I certainly honor his service as a prisoner of war. He was a hero to me and to hundreds of thousands and millions of others in the armed forces as a prisoner of war. And he has traveled all over the world. But he hasn't held executive responsibility," said Clark, a former NATO commander who campaigned for the Democratic presidential nomination in 2004.
"He hasn't been there and ordered the bombs to fall. He hasn't seen what it's like when diplomats come in and say, 'I don't know whether we're going to be able to get this point through or not,' " Clark said.
On Monday, Clark again tried to clarify his remarks.
"John McCain is running his campaign on his experience and how his experience would benefit him and our nation as president. That experience shows courage and commitment to our country, but it doesn't include executive experience wrestling with national policy or go-to-war decisions," Clark said.
"And in this area his judgment has been flawed. He not only supported going into a war we didn't have to fight in Iraq but has time and again undervalued other, nonmilitary elements of national power that must be used effectively to protect America.
"But as an American and former military officer, I will not back down if I believe someone doesn't have sound judgment when it comes to our nation's most critical issues."
McCain's campaign announced Monday that it was launching a "Truth Squad" to defend the senator's military record.
Leaders of the group include McCain's fellow Vietnam POWs Air Force Col. Bud Day and Marine Lt. Col. Orson Swindle, along with former Navy pilot Carl Smith, who served with him.
McCain said Monday that he was proud of his record of service.
"The important thing is that if that's the kind of campaign that Sen. Obama and his surrogates and his supporters want to engage in, I understand that," he said.
"But it doesn't reduce the price of a gallon of gas by one penny. It doesn't achieve our energy independence or make it come any closer ... and it certainly doesn't do anything to address the challenges that Americans have in keeping their jobs, their homes and supporting their families."
E-mail to a friend

All About Barack Obama • John McCain • Wesley Clark