By Mark Preston
CNN Political Editor
WASHINGTON (CNN) -- Bob Barr was once a loyal soldier in the Republican Party --­ a lawmaker GOP leaders could count on to return home each weekend and echo their talking points at local political events, town hall meetings and civic lunches.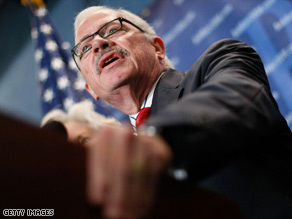 Libertarian candidate Bob Barr abandoned the Republican Party in 2006.
As a young political reporter in Marietta, Georgia, I often heard Barr serve up generous helpings of Republican doctrine over buffet lunches and chicken dinners.
For Republican leaders such as House Speaker Newt Gingrich,­ who represented a neighboring district, ­Barr was a dedicated warrior. And he remained so even after he lost a primary fight in 2002 to colleague John Linder,­ a battle set up by redistricting.
But a few years later, Barr went AWOL from the Republican Party -- or, as he tells it, the GOP abandoned him.

Watch Barr describe what caused the split »
He is now the Libertarian Party's presidential nominee and is crisscrossing the country promoting its principles and hunting for votes.
So why did Barr abandon the Republican Party in 2006?
"It probably wasn't any one thing," he said during our conversation last week outside the White House.
"But perhaps listening to the attorney general of the United States, in a purportedly conservative Republican administration of George W. Bush, justify to the American people that the writ of habeas corpus, the great writ, the foundation of civilized society as we know it, is no longer important. Watching a president and his attorney general try and torture the language of the law and the language of the Fourth Amendment to justify warrantless spying on American citizens in their own country in the name of being a commander in chief.
"Those are so dramatically inconsistent with any notions of legitimate, constitutional, conservative government, that I certainly could not be party to, or remain in a party that advocated those procedures."
His former colleagues now view him as a traitor at worst, misguided at best.
Barr could be the Ralph Nader of 2008 -- taking away enough support from presumptive Republican nominee John McCain to hand presumptive Democratic nominee Barack Obama a victory in November.
Even Obama's campaign has said it is eyeing Georgia and Alaska in large part because of Barr's presence in the race. Barr is likely to draw support in his home state as well as the frontier state of Alaska, which is known for its Libertarian streak.
Barr said a GOP senator recently approached him to ask that he drop his White House bid, a request that has come from more than one Republican since he received the Libertarian Party nomination in May. The senator's plea­ fell on deaf ears. (­Barr would not reveal the lawmaker's identity).
"What they say is, 'It's not that we disagree with what you're doing, Barr. It's not that we don't understand. We do understand, and we actually agree with what you're saying, but we don't want to vote against a Republican because that might help the Democrat,' " Barr said of the talks he has had with those who want him to quit.
"It's all about partisan politics. It's not about substance. It's not about principles, which is what I and the Libertarian Party stand for. It's all about partisan politics. That's what has to change and that's one of the reasons I'm running."
If elected president, Barr said he would "substantively" cut the size of government, including a 10 percent slash in the budget for the "executive office of the president;" refuse "to sign legislation that ratchets up the ceiling of the national debt;" and make sure that taxpayer dollars are spent on improving education back home instead sending the money to Iraq.
So, does Barr think he will be to McCain what Nader was to Al Gore in 2000?
"I'm not in this as a spoiler," he emphatically stated during the interview.
"I am 59 years old. I have better things to do with my time than worry about spoiling it. If Sen. McCain is not successful on November 4th, it will be because John McCain and the Republican Party did not present a vision, an agenda, a platform and a candidate to the American people that a plurality of the voters of this country could embrace and buy into."
To achieve any success in this election, Barr is going to have to tap into the "Ron Paul Revolution" -- a grassroots movement that rallied around Texas Rep. Ron Paul's longshot bid for the presidency.
Barr said he has been in touch with Paul to talk strategy but added he has not asked for the Texas Republican's endorsement. Paul, himself, ran for president as the Libertarian Party's nominee in 1988.
So, with a proposed budget of $40 to $45 million (less than half of what McCain will have and eight times less than what Obama is expected to raise), a political party whose infrastructure is nowhere near that of the Democratic nor Republican parties, and lots of other hurdles, what does he think of his chances?
"I intend to be in the White House in January 2009," he said without hesitation. "I know it's a long shot, I'm not unrealistic about this. It is a long shot. The major two parties stacked the deck tremendously against a third party candidacy such as mine, but the dynamics this election cycle make the possibility of winning as the third party candidate much more realistic, much more doable than any time in the past."
So will he win?
No. But you have to give him credit for trying.
E-mail to a friend

All About Bob Barr • U.S. Presidential Election • Libertarian Party