By Ed Henry
CNN White House Correspondent
WASHINGTON (CNN) -- A Democratic lawmaker's comment that he was "glad" that a top aide to Vice President Dick Cheney could be identified by al Qaeda has sparked outrage among Republicans at the White House and on Capitol Hill.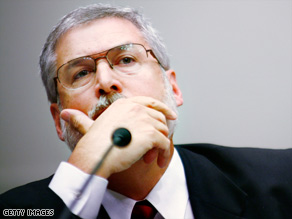 David Addington said he could not talk about discussions about interrogation techniques during a House hearing.
During a contentious House hearing on harsh interrogation techniques for terror suspects Thursday, Rep. Bill Delahunt, D-Massachusetts, was pressing David Addington, the vice president's chief of staff, about meetings he attended while serving as Cheney's chief counsel.
Delahunt asked repeatedly whether the topic of waterboarding, a controversial interrogation technique that simulates drowning, ever came up.
Addington replied that he could not discuss that because "al Qaeda may watch C-SPAN."
"Right," Delahunt responded. "Well, I'm sure they are watching, and I'm glad they finally have the chance to see you, Mr. Addington."
"Yeah, I'm sure you're pleased," Addington shot back.
"Given your penchant for being unobtrusive," Delahunt said of Addington's ability to stay behind the scenes.
Cheney spokeswoman Lea Anne McBride said "the congressman's comments were inappropriate," and Republican Rep. Steve King expressed outrage that Delahunt said he was happy about the staffer becoming a "publicly televised target" of al Qaeda.
"With Rep. Bill Delahunt's remarks inciting al Qaeda to violence, David Addington and his family will need protection until the war on terror is over," King, of Iowa, said in a written statement. "I wonder if Bill Delahunt is ready to guard Mr. Addington's home and family."
Don't Miss
Mark Forest, Delahunt's chief of staff, said the congressman's comments "might not have been the most artful" way of expressing his frustration with the administration and acknowledged that the statement "could have been better phrased."
But he stressed that Delahunt "had no intention" to make it seem like Addington should be a target of al Qaeda.
"Bill certainly meant no ill will towards Mr. Addington," Forest said, adding that Delahunt was trying to make a broader point about "transparency" in government and how he was glad Addington finally had to testify in the open about the administration's policies.
"I think the larger point was the importance of him being before the Judiciary Committee, given his role as a chief architect of the administration's policies on detainee treatment and torture," Forest said.
"The administration has consistently hid behind this war on terror in order to avoid explaining itself to Congress and the American people. His appearance before the committee really gave an opportunity for the American people to hear from him," he said.
E-mail to a friend

All About David Addington • Al Qaeda