(CNN) -- Technology is changing the face of American politics, say many experts, and at least one Web pioneer calls it the biggest change since the American Revolution.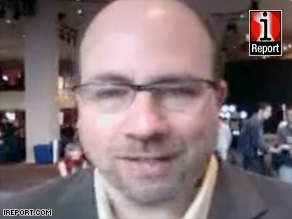 Craigslist founder Craig Newmark said technology has allowed ordinary people to change the political process.
Attendees at the Personal Democracy Forum in New York this week submitted undirected iReports at a kiosk. Many talked about the unprecedented degree to which the Internet is opening up the democratic process.
"Ordinary people ... are now influencing and changing the political process, both in the way we elect people, and in the future, the way we do actual governance," said Craig Newmark, founder of the online community Craigslist and supporter of Democratic presidential candidate Sen. Barack Obama.
"This is as big a change as what we had in 1776," Newmark said.
Leaders of technology, politics and media gathered at the forum to discuss how technology is affecting the election and the government's connection with the public.

Interactive: Hear what other technology, journalism and new media experts had to say »
Between political blogs, social networking sites, online media and video share sites, people need little more than an Internet connection to become a more active part of the political process -- or at least keep up with it.
"Everyone wants to be like the big guys," said Ravi Singh, the founder of ElectionMall.com, a nonpartisan company that helps candidates use technology to run their campaigns. "They want to have the tools and the technology to impact the voters."
"This election is historical not because of Obama raising so much money or [Republican presidential candidate Sen. John] McCain getting so much grassroots momentum. It is because ... everyday voters have now the ability to participate in politics in a way that our founding fathers could only imagine." iReport.com: Share your thoughts on the impact of technology on politics
While the Internet has been especially prominent in this election, Mindy Finn -- former director of online strategy for Republican Mitt Romney's presidential campaign -- says it's inaccurate to call this the first Internet campaign.
Don't Miss
"In 2004 and even 2000, candidates were using the Web to raise money, organize volunteers, reach voters. People were posting on blogs or starting their own blogs. The difference now is that the majority of people are spending their time online and getting their information online and it's really the buzzword around campaign 2008," said Finn, an online media consultant.
By spring 2008, 40 percent of adult Americans had used the Internet to get political news and information, up from 31 percent at the same stage in 2004 and 34 percent for that entire election season, according to the Pew Internet & American Life Project.
Mary Alice Miller, a journalist and columnist for Our Time Press, a Brooklyn, New York-based newspaper that focuses on African-American issues, said she wishes more minorities would participate in the process "because our voices count, too."
She said that while white people have a strong blog presence, she has seen many blacks in New York very actively engaged in more private discussions on politics through e-mail Listservs.
Among adults, 47 percent of non-Hispanic whites use the Internet, e-mail or text messaging to get political news or exchange their views, compared with 43 percent of non-Hispanic blacks and 50 percent of English-speaking Hispanics, according to the Pew report.
The power of the Internet has been a key factor in deciding the two candidates who have made it this far, Finn said.
It "shows every single flaw. [It has] led to two nominees ... who are really seen as authentic. ... Those who tried to be slick or paint themselves as someone they are not ... have not been successful."
It's also important for the candidates to embrace technology, some attendees said.
In a panel discussion, Tracy Russo, the former online deputy director for Democrat John Edwards' presidential campaign, debated with Mark SooHoo, the deputy eCampaign director for McCain, over McCain's admitted limited use of computers.

Watch McCain describe his computer skills »
"John McCain is aware that the Internet exists. It's not like this is a completely ridiculous thing that he just doesn't understand. This is a man who has a very long history of understanding a range of issues," SooHoo said in the panel.
"Try explaining e-mail, Facebook, Twitter, Google and massive social movements to your grandmother and then asking them to apply that to governing and see if it would work for you," Russo responded.
Jane Hamsher, founder of political blog Firedoglake.com, sees this as a weakness for McCain.
"If John McCain doesn't have the inherent natural curiosity to fire up a computer and learn something about it, he's kind of unfit for the job," Hamsher said.
Still, SooHoo said that the Republican candidate's campaign has been focused since the primaries on "how we can use the technology to put us in position to win."
Beyond the election, some attendees said technology could elevate the government.
"We have an opportunity to open up government in new ways," said Jeff Jarvis, a journalism professor at the City University of New York who also blogs for BuzzMachine.com and PrezVid.com.
"Barack Obama has said he'll have a chief technology officer. I'm eager to hear what that job is and how much it will change the ethic of government to make every action of government except for the obviously secret open to citizens so we can know about it and discuss it," Jarvis said.
Esther Dyson, a journalist, philanthropist and expert on emerging digital technology, said she hopes whichever candidate is elected "uses these tools to listen to the people, but also to ask them to be active citizens -- to make the local schools better, to make sure the water commissioner in their town is honest, to get involved in whatever way in building a local community."
"Remember," said Miller, "geek is the new cool."
E-mail to a friend

All About Internet • U.S. Presidential Election • Barack Obama • John McCain