By Jonathan Mann
(CNN) -- Forget the issues, forget the personalities, forget everything about U.S. politics. The most important question about the 2008 election may be this: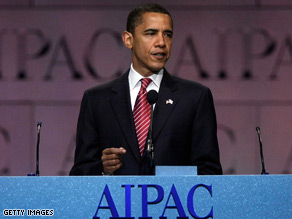 Barack Obama made history this week by becoming the Democratic nomination to the presidency.
Can a man named Barack Hussein Obama be elected president?
From his very start on the national stage, Obama has warmed up his audiences with jokes about his "big ears" and "funny name." So far, his ears aren't a problem. But in part because of his middle name, he is dogged by the apparently unstoppable rumor that he is a Muslim.
Close to the start of his campaign, his spokesman issued a statement that "Senator Obama has never been a Muslim, was not raised as a Muslim, and is a committed Christian."
His long-time pastor even became a newsmaker in his own right, reminding the US that Obama is a regular churchgoer.
Still, more than a year later, a poll found that one in ten Americans believe he is Muslim. The number is nearly one in five in rural areas. That's more than enough people to swing an election.
The Obama campaign has created a special team to fight rumors like the one about his religion. He goes out of his way to deny it in speeches. His supporters do too. There is a Web site devoted to it, called FightTheSmears.Com.
But what about the underlying premise: why should his being a Muslim matter? Why is it a "smear?"
Tony Kutalyi of the American Arab Anti-Discrimination Committee says: "He needs to come out and not just simply say I'm not a Muslim, but again, if I were a Muslim, what difference would it make?"
The Obama campaign is embarrassed to admit that one of its volunteers in Detroit kept two Muslim women from appearing near Obama, where media cameras could see them, after they refused to remove their headscarves. Obama personally called the women to apologize.
His predicament is clear. Every president the US has ever elected has been white and Christian. Obama is an African-American, trying to make history in a country that is still grappling with racism.
Since the attacks of September 11, 2001 set off a war on terror against Muslim extremists, the US has been grappling with its feelings about Islam as well.
Barak Obama doesn't often use his middle name -- but he can't seem to escape it.
E-mail to a friend

All About Hillary Clinton • Democratic Party • Barack Obama • John McCain • Republican Party